While having holidays in Tenerife, I found a moment to sit down and write about my January activities. As always, I try to come up with some highlights for the month, so these are the key moments for the past month:
Participation in a trail run "XTrasa Naujoji Vilnia";
Participation in a memorial run for Lithuania's fight for independence;
Starting preparation for triathlon.
First of all, let's see how the total summary looks like for January:
During January, my training was much more diversified compared to previous month. I started visiting swimming pool and had some training on a stationary bike. Something had to give, so there was much less strength training in the gym. Currently, my priority is preparation for the triathlon season, so I will need to focus on running, bike and swimming more. I am still lacking consistency but I think the start of the year was quite good. Having in mind that I almost didn't swim or cycle last year, it will be interesting to see how I look in triathlon competitions coming up this year.
XTrasa Naujoji Vilnia
On the first weekend of January, I participated in the third stage of "XTrasa" cup. It was another race of 10k with a lot of vertical ascent (this time – 660m). Out of the three races so far, it was the least complicated (had less ascent than previous stages). However, it somehow was not that easy to me. As always, I should have had more training… I finished the race in 1:23:16′ and took 71st place out of 88 participants in my category. The competition in my category was really tough or I really lack training 😀 Interestingly, I participated in the same race last year and finished the distance in 1:26:04′ but there was a lot of snow last year and this time it was quite dry and not so slippery so I can't really compare it.
Despite finishing at the back of the field, after 3 races I am currently on the 27th place out of 238 participants which puts me in top 12% of the field! This is due to me participating in all of the races. So far I am comfortably within my goal to finish in top 40% in final classification.
This is me imitating  stork before the race: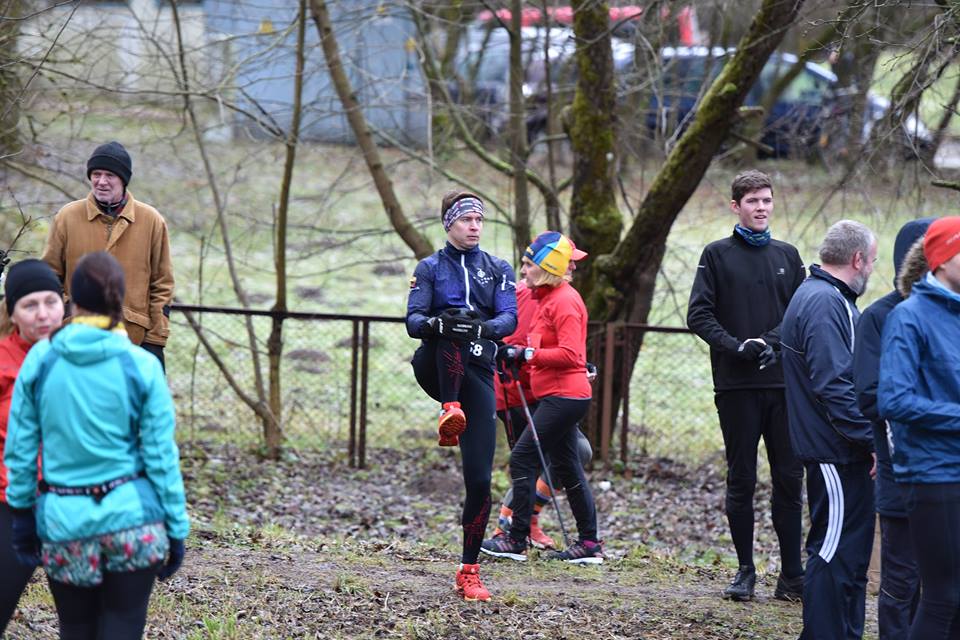 Memorial run
I also participated in a commemorative run for those killed in the defense of Lithuanian Freedom, and specifically defense of the Vilnius Television Tower (which took place on the 13th January 1991). It was a run of 9km from Antakalnis cemetery to the TV tower. It's the third year in a row when I participate in this nice run. It's not a competition so we simply ran to respect people who put their lives for Lithuania's freedom. Back in 1991 lithuanian people were fighting against aggression of Soviet Union and 14 people died on the night of 13th January but our freedom was saved as a result.
Part of the crowd which participated in the run:
Summary
This month was quite interesting as the training got more diversified when I started training for triathlon. I spend some time thinking what I should do and create some plan for the week ahead. Planning a training week is quite interesting to me and I guess I like triathlon partly due to complexity of the sport. You need to do your best to train enough but not over-train and feel exhausted so it's sometimes hard to find good balance. During the next months, I will try to keep up with running, swimming and bike and we will see how I look when triathlon competition season begins.
How was your month? Did you start doing anything new? Are you trying to stick to some new year resolutions? Let me know in comments below!