One more month is behind us. We only have one month of summer left this year but it has been a great one! I don't remember having so many hot days during Lithuanian summer. It already feels that it's too much heat but I guess we will miss it when winter comes. Another month behind us also means that it's time to "count chickens" that were brought by my portfolio. Let's get to the numbers!
Dividend Income
During July, two companies delivered some cash to my bank account:
So close to $10 but not quite there yet! I wish I could get at least $10 from dividends every month, so this may be a small challenge going forward.
Talking about individual payers, I love both of the holdings. CSCO is one of my most successful investments at the moment, having climbed ~30% since I purchased them last year (they were up ~40% but declined recently). Realty Income, on the other hand, are not known for gains in share price recently but they are known as the monthly dividend company. They keep delivering those small chunks of cash each month and I love it!
Year on Year Comparison
Let's see how income of this year's July compares to dividends in July last year: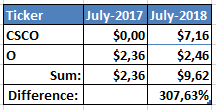 Now that's what I'm talking about! Since I didn't own CSCO this time last year, the difference to last year is huge. Of course, the initial base is low but who cares about the nominal numbers when we see such a growth in percentage points 😀 Unfortunately, this is probably the last month where I record growth rate of more than 300%. On the other hand, I will no longer have such small base, so that's the good part. Putting aside the new dividends from Cisco, Realty Income keeps raising their dividend and this also attributed to the growth rate compared to last year.
This is how my dividend income progress looks like since the beginning of 2016 when I started recording it:
Purchases and Portfolio Contributions
During June I didn't make any purchases but there is one to come very shortly. The order is already done but I am still waiting for the shares to be fully transferred to my account, so I will consider it as a purchase for August. I will write a separate post for this so stay tuned.
I put aside €400 to my investment account during July.
I didn't add any funds to my P2P lending account and only re-invested received back loans.
Dividend Increases
None of the companies in my portfolio declared dividend increases during July. It looks like most of my holdings tend to raise dividends during the winter season but maybe next month will bring some good news.
Income from P2P Lending
During July, I received €5.50 in interest from P2P lending. This time it is less than in previous month when I received €6.50. I saw a spike of late loans last month and it looks like some of them may default at some point. Most of them are insured, though, so there is not much to worry about. I choose to receive lower interest rate from the riskier loans. In return I get insurance that I will receive my money back if the payments are late for 90 days. I am keeping up to 10% of my portfolio in this type of investment, so I didn't add any additional funds to it during last month. My loans portfolio still grew to €586.14 and now consists of 47 loans.
Summary
In total (after converting to EUR) I received €13.73 from passive income during July. This puts my total for 2018 to €154.61. My goal for the year is to receive €240 during 2018 so I have 64% of the goal completed with 58% of the year behind us. I need to remember that unusually big May income put me ahead of schedule but it is now slowing down. I still hope to keep up with this goal and reach it until the end of the year.
How was your month? Are you enjoying the summer? Please don't hesitate to leave a comment and thanks for reading! 🙂