March is gone and it's been pretty crazy. I spent the last three weeks working from home due to quarantine. I thought it would be worse with our daughter around, to be honest. We are lucky to have a nanny, so she is looking after our daughter while me and my wife are working.
Interestingly, I am doing much more driving lately. I am picking up our nanny and bringing her home, so that she doesn't need to use public transportation at these times. Since my workplace is at walking distance, I didn't use the car nearly as much before the quarantine.
In the passive income front, there are news almost everyday that companies started cutting their dividends. Luckily, none of my holdings did this yet, but it's possible that we'll see some cuts in the future.
Now let's review the passive income our portfolio generated during the month.
Dividend Income
8 companies paid dividends to me during March:
It's the first time when I surpass $60 in the third month of the quarter (excluding June when I have an annual payer). It's definitely nice to see that the amounts are getting more substantial.
Biggest payers this month were the only Utility company in my portfolio Dominion Energy, followed closely by an Industrial giant 3M.
As always, let's see what part of expenses of different categories in my budget the dividends could cover if I decided to spend them:
$8.72 from Pfizer and $2.42 from Johnson & Johnson would cover 18.4% of our expenses in Health category for the last 3 months;
$8.41 from Target could pay for 0.69% of what we spent on Food during the last 3 months;
$7.39 from Exxon Mobil would cover 9.77% of our Car & Transportation expenses for the last 3 months;
$10.00 from 3M would cover 0.5% of what we spent on Baby related expenses (mainly Daycare) during the last 3 months;
$3.16 from Realty Income would cover 0.5% of our monthly Rent;
$11.99 from Dominion Energy would cover 2.33% of our Utilities bills for the last 3 months;
Finally, $9.26 from Blackrock could cover 53.5% of our expenses in Banking category for the last quarter.
There is long way to go for dividends to cover significant amount of our monthly expenses but performing this fun exercise gives me motivation to keep going.
Year-on-Year Comparison
Let's see how dividend income this March compares to the March a year before: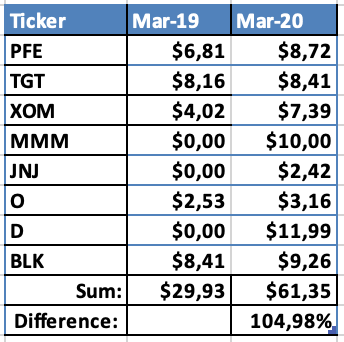 It's great to see that dividend income doubled compared to last year. Most of the changes were due to new positions in my portfolio (3M, Dominion Energy, Johnson & Johnson).
This is how my dividend income progress looks like since the beginning of 2016 when I started tracking it:
Purchases and Portfolio Contributions
This month I added €1750 to my investments accounts.
I used some of this money to buy some shares of the smallest positions in my portfolio:
On the 27th of March, I bought 1 share of Johnson & Johnson for $122.70;
On the 27th of March, I bought 3 shares of Altria Group at $35.20/share for a total of $105.50.
These purchases added $11.79 to my net forward annual dividend income. You may read more about them here.
Also, at the very end of the month, I purchased my first bond:
On the 30th March, I bought one bond of Viada LT for €1000 with a 5% coupon and maturity of 3 years.
This purchase adds €50 to my forward annual passive income. You may read more about the purchase here.
Dividend Increases
This month, one company announced a dividend raise:
It's just a tiny increase but in this environment of dividend cuts it's better than nothing 🙂
Changes in Projected Annual Dividend Income
I am continuing the tradition from last year to track changes in Projected Annual Dividend Income. It is coming from two sources – Dividend raises/cuts and new investments.
Let's see how forward dividend income changed during March:
For comparison, I am also adding the table from previous year:
Once again, the increase is smaller than at this point last year. However, it doesn't include the bond purchase (since it's not a dividend), so in reality the situation is better.
I already have a purchase for April in the books, so I know that the next month will look better 🙂
P2P Lending Income
Let's see how much income was added from interest in P2P lending:
Interest from P2P lending added up to €9.25 this month which is similar to previous months. At this point, this part of my portfolio is pretty much on auto-pilot, and I don't keep much attention to it.
P2P portfolio took 6.4% of my passive income portfolio at the end of March. It's an increase from 5.3% last month, due to decrease in stock prices. I would like to keep my P2P lending portfolio at ~5% of overall portfolio.
If you would like to sign up with Mintos and receive some cashback, feel free to use my referral link (I would also get a small commission).
Summary
In total (after converting to EUR), I received €65.35 from passive income during March. This brings the total for 2020 so far to €146.79. I set a goal to receive €1000 from passive income this year, so it seems that I was over-optimistic. With 25% of the year behind us, I reached only 14.6% of the goal so far. On the bright side, I am way ahead compared to where I was at this point last year, so there is some progress.
It seems that we will be in quarantine for at least a few more weeks. Situation is unclear but I am thankful that our family hasn't been touched a lot so far. With so many deaths and people losing their jobs, we can just hope that we will overcome this crisis sooner rather than later.
How are you doing? Has your life changed a lot since the Covid-19 pandemic was declared? As always, thanks for reading and stay safe!