Beginning of a new month always brings some happy moments to me. I sit down to review what happened during the month and how much passive income my portfolio generated.
October was another great month to me. I had a work-related conference in Utrecht and it was my first time in the Netherlands. Luckily, there was a free day during the trip and I had an opportunity to explore the city by walking around. I liked the canals, the people and the number of bicycles was mind-blowing. It left a great impression and I hope to come back one day.
Now let's get to the numbers of passive income for October.
Dividend Income
This month 4 companies paid dividend to me:
That's not bad for the first month of the quarter. It's the first time when I cross the $30 mark during these months (when there are no annual payers).
As always, let's see what part of expenses of different categories in my budget the dividends could cover if I decided to spend them:
$10.54 form Eastman Chemical would cover 3.4% of our expenses on Clothes during the last three months;
$7.28 from Illinois Tool Works would cover 1.4% of our expenses in Home category for the last three months. This quarter included a purchase of a robot vacuum cleaner, so the expenses were quite high in the home category;
$3.09 from Realty Income could pay 0.5% of our monthly Rent;
Finally, $9.22 from Cisco Systems would cover 8% of our TV + Internet bill.
There is long way to go for dividends to cover significant amount of our monthly expenses but performing this fun exercise gives me motivation to keep going.
Year-on-Year Comparison
Let's compare dividend income to October of last year: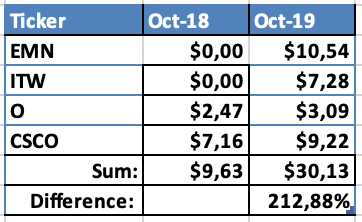 It's great to see that dividend income tripled compared to last year! Most of the increase was led by two new companies in my portfolio – Eastman Chemical and Illinois Tool Works. Hopefully, the list will keep increasing, as well as amounts of dividends from individual payers.
This is how my dividend income progress looks like since the beginning of 2016 when I started tracking it: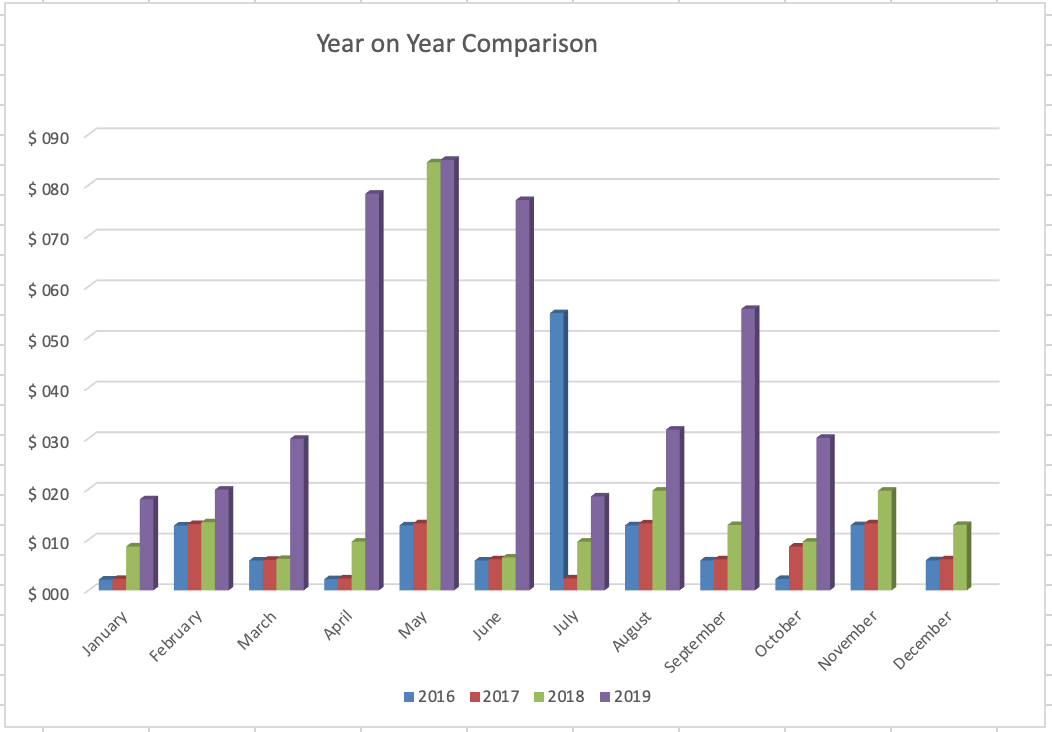 Purchases and Portfolio Contributions
I have less funds to invest compared to the beginning of the year, so I only managed to put aside €205 for investments this month. Usually, I invest in chunks of at least €1000 but I decided to try out to the new Revolut trading platform which allows up to 3 trades a month without paying commissions.
I initiated small positions in two new companies for my portfolio on the 24th October:
1 share of Johnson & Johnson (JNJ) for $128.09;
2 shares of Altria Group (MO) for $46.99/shares for a total of $93.98.
Those purchases added $8.94 to projected annual dividend income and you may read about them here.
My plan is to increase those positions during the upcoming months.
I haven't added any funds to P2P lending platforms.
Dividend Increases
I thought I would not get any dividend increases this month but received one at the very end of the month. I actually would have missed it if not a tweet I noticed from Divvy Dad.
Starbucks delivered an increase of almost 14%! I can't complain about that and it's the biggest increase in my portfolio so far this year. I would need to invest more than $100 with my average dividend yield to achieve this.
Changes in Projected Annual Dividend Income
As I mentioned in previous posts, I have a goal to increase my PADI to $450 from US companies this year. At the start of the year it was standing at $236. This means that I should add additional $214 (or $18/month in average) if I want to achieve the target.
To track the progress, I monitor PADI increase/decrease from two sources – dividend raises/cuts and capital contribution.
Let's see how forward dividend income changed during October:

Actually, I already reached the goal last month. However, it doesn't hurt to keep increasing it, as every dollar counts in this journey. Currently, PADI stands at $499, so it's very likely that I will cross the $500 mark shortly.
P2P Lending Income
This is how my income from P2P lending looked like in October:
Interest from P2P lending added €9.78 to passive income this month. It's very close to what I received last month, as I haven't added any additional funds to this platform for the last few months. There is some cash drag on Savy platform, so the total balance of active loans slightly decreased compared to last month.
In general, I would like to keep P2P lending portfolio at ~5% of my overall portfolio. Currently it stands at 4.8%.
If you would like to sign up with Mintos and receive some cashback, feel free to use my referral link (I would also get a small commission).
Summary
In total (after converting to EUR), I received €36.84 from passive income this month. This brings the total for 2019 to €470.5 which is 98% of my goal to receive €480 from passive income this year. I still have two months left – can't wait to see the final numbers!
How was your month? Are you sharing any dividend payers with me? Are you close to achieving your annual goals? As always, thanks for reading and I would love to read your comments!