With half of the autumn completed, we are still enjoying quite nice weather here in Lithuania. September marked the end of the busy season for me this year. I had two competitions at the beginning of September and one of them was a big one. These were the highlights of the month:
Olympic distance triathlon in Druskininkai;
Marathon in Vilnius;
Getting back to the gym.
Before we go to the main events, this is the summary of all the activities performed during September: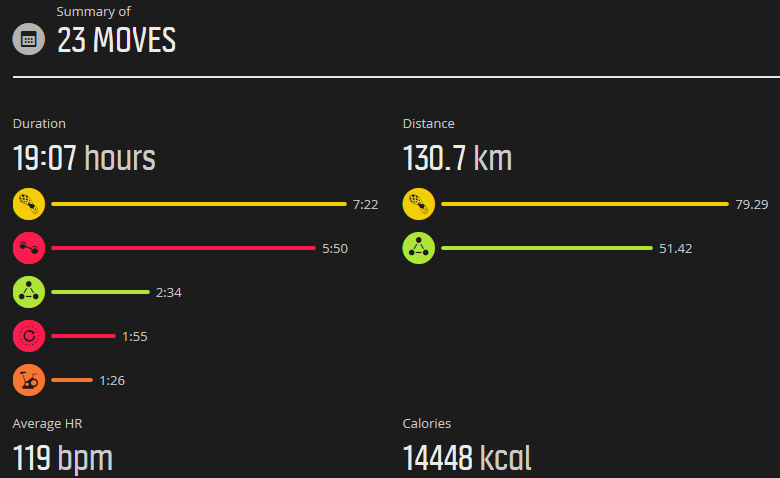 Not a big amount of exercising, compared to previous month. This was expected, as the season ended. Most of the time was spent running and half of that time was on one particular run – marathon. What's also different from previous months is that I started visiting gym again.
Triathlon in Druskininkai
On the first day of September, when children were going to school in some places (it was Saturday), I participated in the last stage of Lithuanian Triathlon Cup which took place in Druskininkai. It was again an Olympic distance triathlon where you need to swim 1,5km, cycle 40km and then run 10km. I had in mind that this competition is not that important and I should not do it in full throttle, as it would not be helpful for a marathon which was scheduled for the following weekend. On the other side, my parents-in-law came to cheer so I naturally wanted to look good 🙂
This is how it went for me:
Swim: 00:31:33 (65th out of 129 participants)
Transition1: 00:01:52
Bike: 01:12:37 (98th)
Transition2: 00:01:08
Run: 00:48:26 (61st)
Total time: 02:35:38 (79th out of 129 participants, 75th out of 119 men) – PERSONAL BEST in a non-drafting event!

Another race – another record! This was my best time in a triathlon where rules don't allow to draft other cyclists in the bike part of the race. Even though I thought I would not push hard this time, adrenaline took over. On the other hand, conditions of this race were very good for a good result – there were not many hills and the results were good for everybody. So when comparing myself to other competitors I didn't perform that well, especially on the bike part. I really like this graph which shows where I lost and gained places:
One more time, this shows how bad I am in cycling discipline, compared to others. I will need to do some serious work over winter if I want to get better results.
Overall, I am very happy with the result. I participated in this same race back in 2016 and then finished in 02:50:37 so I improved by 15min which is pretty good. The most important thing is that I don't feel like I over-trained and I haven't experienced any injuries throughout the year.
Also, this race ended the Lithuanian Triathlon Cup and we can finalize the results. After 7 stages (I participated in 6 of them) I ended up in the 43rd place out of 204 men which puts me into Top22% of the field.
Marathon in Vilnius
On the 9th of September I participated in the last big competition for me this year. Remembering how hard it was last year and knowing that I didn't do all the planned training sessions over the year I was a bit worried. I had a plan to try and maintain a pace of 05'19 min/km and see how it goes as I progress throughout the race. I wasn't sure I could maintain such a pace for a long time as I ran much slower in the long training sessions.
Anyway, the race started and I stuck to my plan to run together with so-called 'pacers' who had balloons attached to them that said 3:45. That was my target time that I set back in January. It went really well on the first lap. I didn't feel tired after the first half (21.1km). I stuck to my nutrition plan, consumed an energy gel every 45-50 minutes, drank a little bit of water in every drinking station, heart rate was steady at ~165 beats per minute. Also, the race course was much easier than last year – most of it was flat terrain, with minimum number of hills. There were quite a few spectators who gave extra motivation as well. It all looked good when I had 30km covered and I thought that I may just do it in the planned optimistic time.
But then, at around kilometer 35 it started getting harder. I could hardly keep up with the pacers, my heart rate went higher all the time and was already above 175 beats per minute. One of the pacers noticed that I am struggling and am planning to detach from them and yelled "Don't even think about it!". I stuck with them for another kilometer and the same pacer said "If you think you are going to die, don't worry – I'm a doctor!". I'm not sure if he was joking or not up to this day. I tried to stick with them for some more time but after around 39 kilometers I looked at my watch and saw that my heart rate is constantly at 180 beats per minute and decided that this is unfortunately too much. So I started walking for a little bit, running again at a slower pace, walking some more. In the end, I finished the race in 3:47:00 which was just 2min shy of my target. Here are some numbers:

Ironically, my watch says that I hit my target pace of 5'18 min/km and this should have been enough. Perhaps I could have pushed more but I thought that the health is more important and I am glad with the decision I took. It's still a great improvement from last year when I finished my first marathon in 4:06:59. I am thankful for the 'pacers' who were really great and helped me reach the best possible result with my preparation.
Summary
The main training season is over and I am very happy with the results. I reached most of my fitness goals that I set to myself this year and even the failed target for marathon feels like success.
Going forward, I don't set any goals to myself so far. With the recent addition to our family, I am not sure if I want to spend so much time in training. I think that you need to be selfish if you want to be good in triathlon, as you spend so much time doing it and there is less time left for the family. I don't want to spend most of my free time doing sports and miss how my baby-girl grows. So I am planning to stay active but maybe set some more modest goals for next year. Time will tell 🙂