It's been a while since I wrote about my life from the sports side. I missed update for March as there was not much to show. I am back with this post, though, and will review what happened during April. These are the highlights for the last month:
Cycling outside season opened;
Participation in Elektrenai triathlon (Olympic triathlon distance).
Firstly, let's see how the full monthly summary of my moves looks like:
The distances are quite small as I was quite lazy during the first weeks of the month. On the other hand, I am happy that I started out slow and didn't over-train, as I usually tend to dive in to sports too quickly after a long period of rest, and it doesn't end well.
Cycling outside season opened
With spring in full swing, it's nice to be able to cycle outside after winter. Since I didn't cycle at all last year, it was nice to remember the feeling of this sport, especially when the road is free and you have some tailwind. It's not that great when you need to ride against the wind but at least it's a good training session. I found a nice loop of ~35km and rode it twice in April.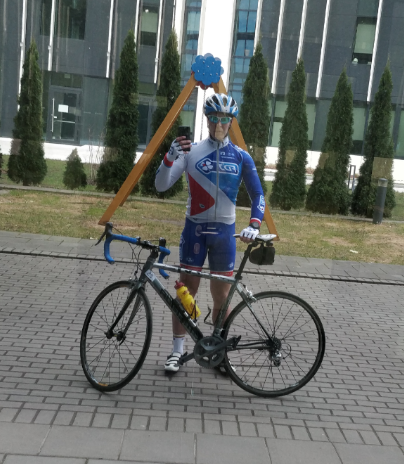 Triathlon in Elektrenai
At the end of April, I also participated in an official triathlon event after a break of ~1.5 years. It was an Olympic distance triathlon which consists of 1.5k swim, 40k bike ride and 10k run. I wouldn't call it a "real" triathlon as the swim took place in the pool and there was a break of ~1 hour between swim and bike ride, so there was some time to rest in between. Even with that, it was really challenging and I remembered how tough this sport is. On the other hand, it gave me motivation to train and get better. These are the results:
Swim: 0:32:15 (54th out of 70 participants)
Bike: 1:26:58 (47th)
Run: 0:55:36 (52nd)
Total time: 02:57:10 (47th out of 63 men)
It was the first triathlon in a series of 7 events in Lithuanian Triathlon Cup I am registered for. One of my goals this year is to finish the cup in top 50%. After the first event, I am in top 75%, so there is room to improve but I am determined to reach the goal by consistent training and participation in upcoming stages of the cup.
Going forward, my main goal will be to train for triathlon during the next months. I will also try to squeeze in some training in the gym. However, I think it is important to treat this as a hobby I like doing, not something that I have to do. With this approach, I will make sure that it brings me joy and I still have time for other things that make me happy.
How was your April? Did you stay active? Feel free to leave a comment and thanks for reading! 😉