Another month is in the books and it means that it's time for my favorite post – counting what my investments brought home during April. Without further adieu, let's get to the numbers!
Dividend Income
During April, I received dividends from two companies:
Realty Income is the usual monthly payer of dividends in my portfolio. Even though, its price declined by quite a bit since last year, I am happy to keep it in my portfolio and keep receiving those dividends. And those small amounts really add up – I calculated that I already received $62.56 in dividends from Realty Income since I added them to my portfolio.
Cisco Systems is the dark horse of my portfolio. Since I purchased them last September, the value of stock price appreciated by ~35% and I also received ~$20 in dividends. Couldn't be happier about this investment!
Year on Year Comparison
I like to compare the income with what I received a year ago:
That's some amazing growth. One more month where I can enjoy high growth in percentage points, since the dividend was so low last year. The growth is even bigger than in January when I also received dividend from Cisco, as they provided a dividend raise since then. I should enjoy this kind of growth one more time when I review my received dividends in July.
And this is how the progress looks like since the beginning of 2016: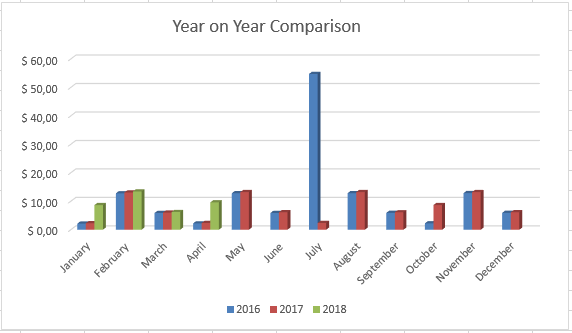 Purchases and Portfolio Contributions
This month I only managed to put aside €300. I will use it for my future purchases when I gather enough capital for another investment. I am trying to save €500 each month but I had some unexpected expenses during April, so I will try to do better during upcoming months.
I also added additional €30 to my P2P lending account.
Dividend Increases
I am super happy to receive two dividend increases during April!
Procter & Gamble (PG) increased their quarterly dividend from $0.69/share to $0.717/share which represents a 4% increase. Since I own 9 shares of PG, this will increase my annual income from PG by ~$0.68 ($0.027 * 9 * 4 -30%).
Furthermore, Exxon Mobil (XOM) also announced a dividend raise. They quarterly dividend increased from $0.77/share to $0.82/share which is ~6.5% increase. Since I own 7 shares of XOM, this will increase my income from XOM by ~$0.98 ($0.05 * 7 * 4 – 30%).
This is the fifth month in a row when I receive a dividend increase from some company, so the streak continues!
Income from P2P Lending
During April, I received €6.16 in interest from P2P lending. So far, income from P2P income is growing every month. One of the loans defaulted but it was insured so I received all the money back, together with interest. Currently, there are 39 active loans in my portfolio, with total value of €536.62.
Summary
In total, after converting to EUR, I received €14.19 from passive income during April. This brings my total for 2018 to €50.09. My goal for the year is to reach €240 in total during 2018. I am still lagging behind and looking at the numbers it looks like I am not making much progress. However, my last two purchases will both pay their annual dividend during May, so the situation should improve 🙂
How was your April? Which company was your biggest payer? Thanks for reading and feel free to leave a comment below!