April is gone, so it means that it's time for another monthly review of passive income. We spent the whole month working from home and it still continues. I think it has been 8 weeks already but I could be wrong. Anyway, I am thankful that we are in a position where we still have jobs at this uncertain environment.
In the dividends front, it's looking pretty good. I had a record month in April which I am going to discuss shortly.
As I am writing this, one company cut their dividend which was quite expected. Luckily, it was not a big payer and I haven't received any dividends from them yet, so it's not a huge loss. Since it happened in May, I am going to cover it next month.
Now to the main topic.
Dividend Income
6 companies paid dividend in April:
That's a new record for a single month! It's getting closer to the round number of $100. Tallina Kaubamaja Grupp was the biggest contributor since it pays their dividend once a year (I converted their payout to USD to keep consistency).
As always, let's see what part of expenses of different categories in my budget the dividends could cover if I decided to spend them:
$11.22 from Eastman Chemical would cover 11.1% of our expenses on Clothes in the last 3 months;
$59.09 from Tallina Kaubamaja Grupp would cover 8.1% of a category in our budget that I call "Sweets" for the last 12 months. I like to keep it separate from Food category;
$7.28 from Illinois Tool Work would cover 10.4% of our expenses in Home category for the last 3 months;
$3.17 from Realty Income would cover 0.5% of our monthly Rent;
$9.49 from Cisco Systems would cover 11.1% of our TV + Internet subscription for the last 3 months;
Finally, $4.28 from Altria Group could pay for 33.6% of what I spent on Alcohol during the last 3 months.
There is long way to go for dividends to cover significant amount of our monthly expenses but performing this fun exercise gives me motivation to keep going.
Year-on-Year Comparison
Let's see how dividend income this April compares to the April a year before:
Dividend income increased by 20% compared to last year. It's not that much, compared to previous months.
Firstly, the amount is pretty much the same from TKM. Honestly, I am not sure why it's slightly lower compared to last year. Tax system is quite confusing in Estonia. One part of the dividends had one withholding tax, another part – a different tax rate. Also, the currency exchange rate may play a role. I don't want to overthink it, since the company still has one of the biggest dividend yields in my portfolio.
The increase mainly came from two new positions in my portfolio, compared to previous year – Eastman Chemical & Altria Group.
This is how my dividend income progress looks like since the beginning of 2016 when I started tracking it: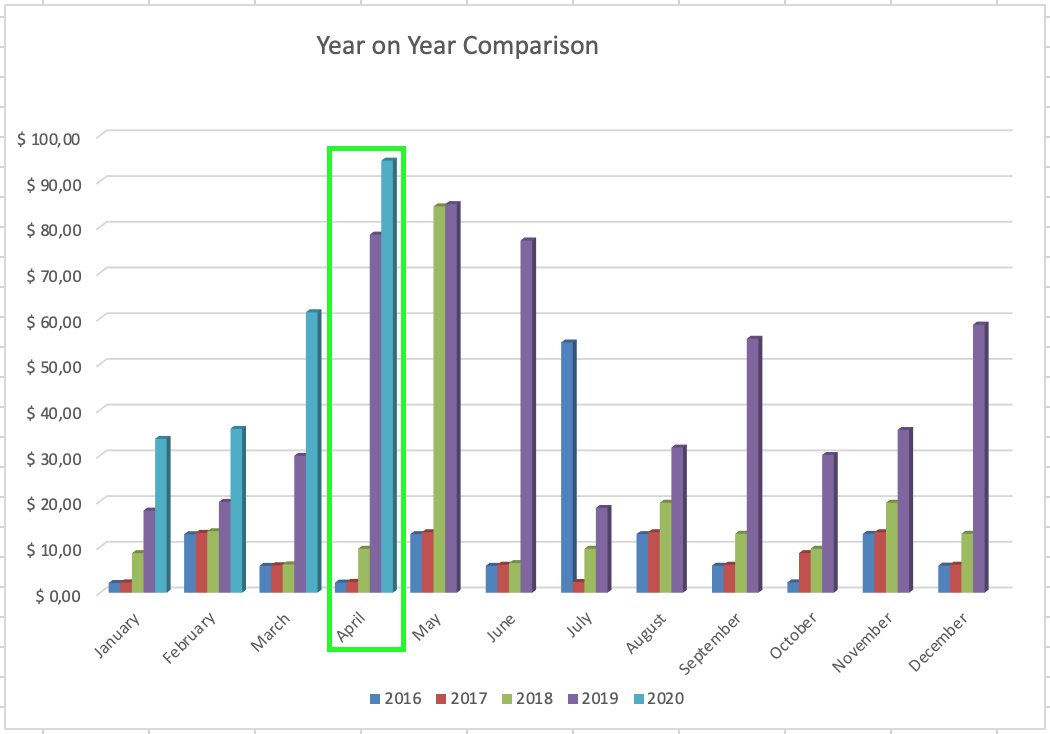 Purchases and Portfolio Contributions
This month I added €500 to my investment accounts.
I used this money and previous savings to add a new company to my portfolio. On the 1st of April, I purchased 16 shares of Prologis at $72.00/share for a total of $1159.00 (including commissions). It adds $31.55 to my net forward annual dividend income. You may read more about the purchase here.
Dividend Increases
During April, two companies of my portfolio announced dividend increases:

I really can't complain about above increases, especially nowadays. Both companies increased their dividends by ~6% while we keep hearing about companies cutting their dividends.
Changes in Projected Annual Dividend Income
I am continuing the tradition from last year to track changes in Projected Annual Dividend Income. It is coming from two sources – Dividend raises/cuts and new investments.
Let's see how forward dividend income changed during April:
For comparison, I am also adding the table from previous year:

Finally, added forward dividend income is getting slightly bigger. The decent size purchase added more than $30 to annual dividend income. However, I am still behind compared to where I was at this point last year. Hopefully, I will be able to add some additional capital in the upcoming months to catch up.
P2P Lending Income
Let's see how much income was added from interest in P2P lending:
Interest from P2P lending added up to €10.01 this month. It may be the first month when interest from P2P lending surpassed €10. I think there may be some defaults going forward, though. At this point, this part of my portfolio is pretty much on auto-pilot, and I don't keep much attention to it.
P2P loans portfolio currently takes up 4.87% of my overall portfolio. My target allocation is 5%, so it's where I want it to be.
If you would like to sign up with Mintos and receive some cashback, feel free to use my referral link (I would also get a small commission).
Summary
In total (after converting to EUR), I received €96.18 from passive income during April. That's a new record and I am getting so close to the magic number of €100. This brings the total for the year to €242.97 which is 24% of my goal to receive €1000 throughout the year. With 33% of the year gone, I am not likely to achieve the goal but I will do my best to come as close to it as possible.
How was your month? Did you start the quarter strong? Are you sharing any payers with me? Don't hesitate to leave a comment and thanks for reading!