After spending 11 or 12 weeks working from home, I am finally back in the office for the last 2 weeks. Although working from home has some perks, I prefer working from office at the moment. It's easier to concentrate when there are no kids shouting around, I can speak louder during meetings when there is no chance to wake up my daughter, and it's good to socialize with my colleagues. You don't understand that you miss it before you experience it. However, it's nice to have some flexibility and work from home in some occasions. The recent crisis already showed that companies are going to let employees do remote working more often, if the job allows it.
Chasing financial independence is also about having options. Even though I like my work, I would prefer to have options. Building a financial nest and seeing the passive income coming to you each month brings a lot of security and happiness. It's good to know that you could withstand a job loss when you have some savings. And seeing the passive income grow each month gives you a feeling that you are making progress and the situation gets better each day.
With that, let's get to the numbers for May.
Dividend Income
6 companies paid dividend to me in May:
May marks another record for dividend income in a single month. That's pretty close to the magic number of $100. Hopefully, I will be able to cross it next year.
As always, let's see what part of expenses of different categories in my budget the dividends could cover if I decided to spend them:
$9.54 from AT&T would cover 117% of what we spent for cellphone bill for the last 3 months. Both me and my wife are using corporate cellphones now, so I will need to assign AT&T to cover another category of my budget. I would call this a First World problem;
$8.92 from CVS Health would cover 4.3% of our Barber expenses for the last 3 months;
$3.17 from Realty Income would cover 0.5% of our monthly rent;
$8.36 from Starbucks would cover 8.4% of our Eating Out expenses for the last 3 months. I feel that this category of Budget was lower for a lot of people during quarantine, unless you order food delivery which I include as "Eating Out" in my budget;
$60.27 from Telia Lietuva would cover 68.9% of our TV+Internet expenses for the last 3 months. It feels good to receive dividends from the company which is actually providing our TV & Internet services 🙂
There is long way to go for dividends to cover significant amount of our monthly expenses but performing this fun exercise gives me motivation to keep going.
Year-on-Year Comparison
Let's see how dividend income this May compares to the May a year before:
On one hand, I hate to see that there were no new companies delivering dividends in May to me. On the other hand, I am really happy to still see an increase by a double digit number. The annual dividend raise from Telia Lietuva was the biggest contributor to the increase this time.
This is how my dividend income progress looks like since the beginning of 2016 when I started tracking it: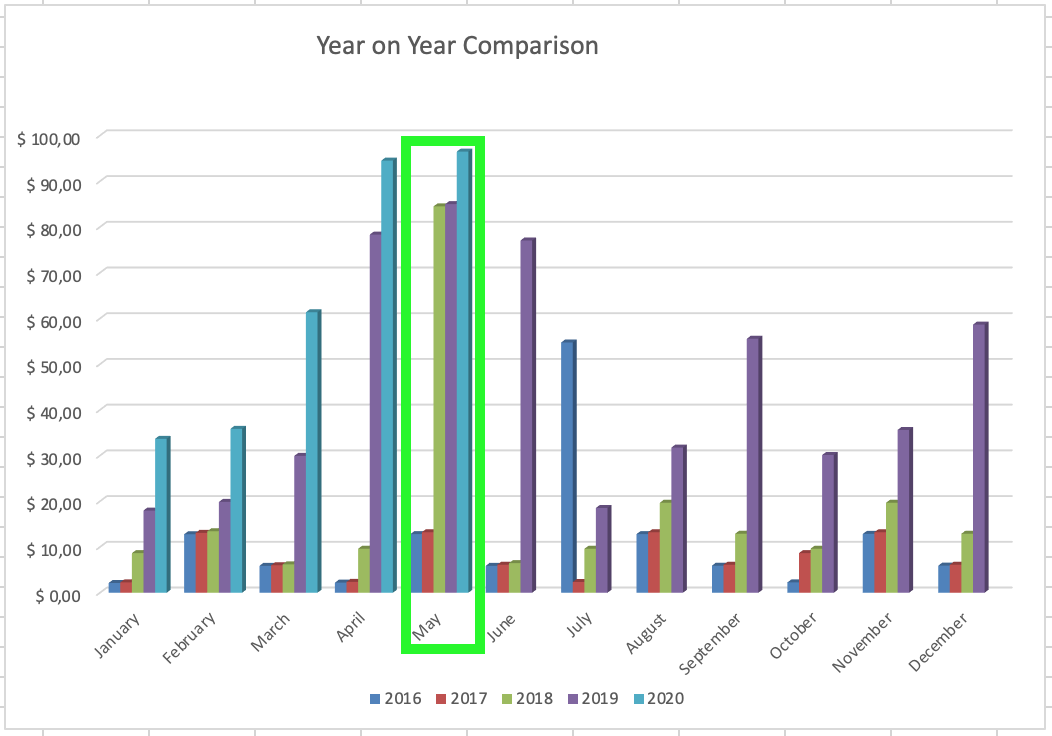 Purchases and Portfolio Contributions
This month I added €500 to my investment accounts.
I used this contribution and previous savings to initiate a new position to my portfolio. On the 28th of May, I bought 20 shares of Welltower for €51.77/share for a total of $1042.40 (including commissions). It adds $41.48 to my forward annual dividend income. You may read more about the purchase here.
Dividend Increases / Cuts
Finally, the Covid-19 crisis hit my portfolio as well. One of my companies suspended their dividend during May:
It's not surprising that Disney had to suspend their dividend after most of their business were hit hard by Coronavirus and its induced lockdowns. On the bright side, the expected dividend amount from Disney was one of the smallest in my portfolio. Also, I am sure that Disney will come back from this, as the company has enough liquidity to withstand the negative impact this pandemic is causing.
I also had an additional dividend cut announced by Uniqa Insurance Group in May. They cut their dividend by 66%. I chose not to track dividend increases/decreases from European companies, as they usually don't have traditions to continue raising dividends year after year. Instead, European companies tend to pay out dividends depending on their results each year. Perhaps I should change this in the future to better reflect the situation, so I will give it some thought.
Changes in Projected Annual Dividend Income
I am continuing the tradition from last year to track changes in Projected Annual Dividend Income. It is coming from two sources – Dividend raises/cuts and new investments.
Let's see how forward dividend income (from US companies) changed during May:
Even with the dividend cut from Disney, May marked one of the biggest increases in forward dividend income this year. Step by step, my annual dividend income increased by $100 already this year.
For comparison, I am also adding the table from previous year:
I am slightly ahead compared to where I was at this point last year. However, I am not sure if I can surpass the record of last year, as it had quite big increases during summer months last year.
P2P Lending Income
Let's see how much income was added from interest in P2P lending: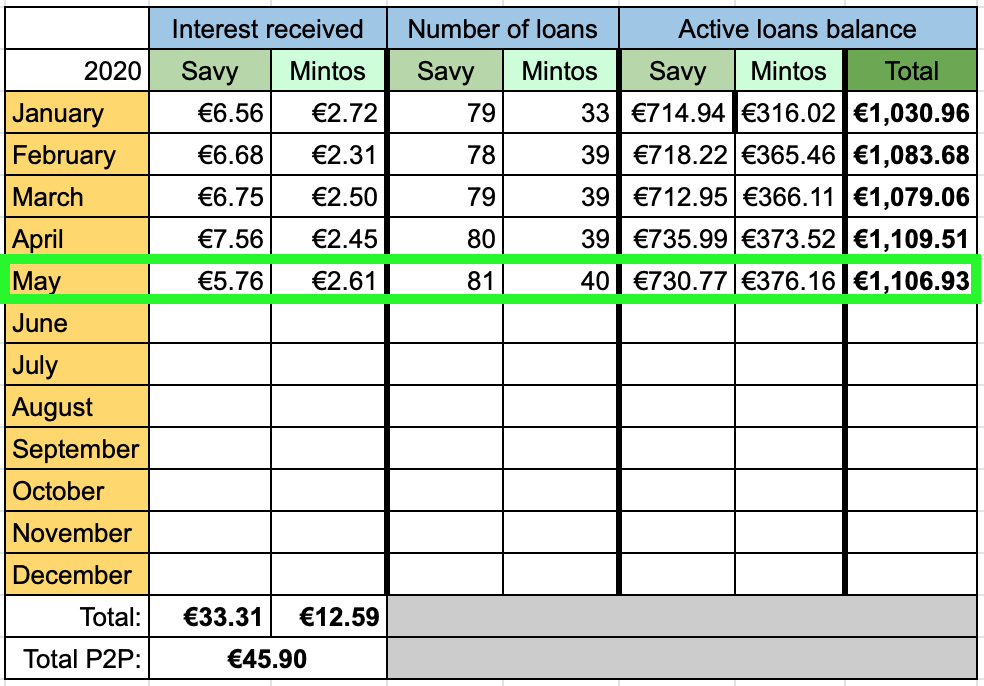 Interest from P2P lending added up to €8.37 this month. It's lower compared to last month, as there was a decrease in Savy platform. I haven't checked much but it seems that there was an increase of late loans in this platform. At this point, this part of my portfolio is pretty much on auto-pilot, and I don't keep much attention to it.
P2P loans portfolio currently takes up 4.56% of my overall portfolio. My target allocation is 5%, so it's close to where I want it to be.
If you would like to sign up with Mintos and receive some cashback, feel free to use my referral link (I would also get a small commission).
Summary
In total (after converting to EUR), I received €94.1 from passive income during May. I was hoping to hit €100 but it seems that I will need to wait for next year, as the biggest months of the year are already behind. Anyway, this brings the total for 2020 so far to €337.07 which is 33.7% of my goal to receive €1000 from passive income this year. With 42% of the year and most of my annual payers gone, I am not likely to reach the goal but I will do my best to come as close to it as possible.
How was your month? Are you sharing any payers with me? As always, thanks for reading and I would love to hear your thoughts! 🙂