Just like that, the summer is over. August was packed with lots of outdoors activities. Having a small child definitely helps to spend more time outside. The weather was nice most of the time, so we visited a few lakes. We also spent the last days of summer at the seaside with some friends, which was fun.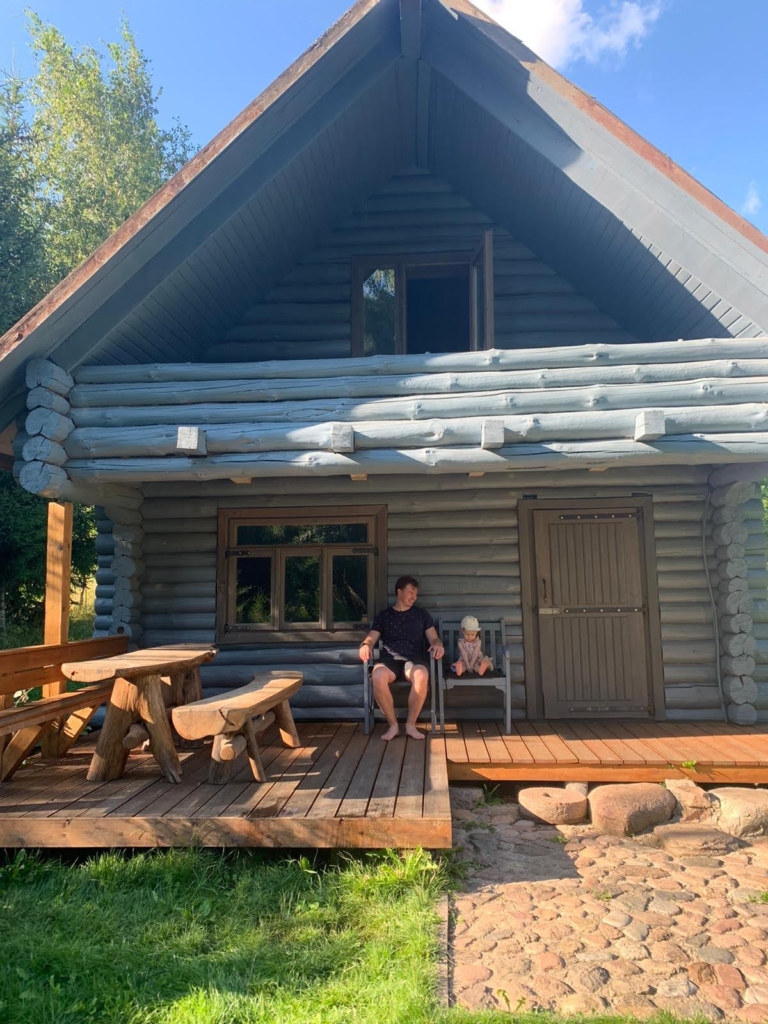 While we were having all those nice activities, our portfolio was silently working in the background and delivered some passive income. Let's see how much we earned during the month of August.
Dividend Income
This month, 6 companies paid dividend to me:
Not the biggest month of the year but I can't complain to receive almost $50. The biggest amount came from a recent addition – Welltower. It was the only company to deliver above $10 in dividends this month.
As always, let's see what part of expenses of different categories in my budget the dividends could cover if I decided to spend them:
$8.92 from CVS Health would cover 4.3% of our Barber expenses for the last 3 months;
$9.72 from AT&T would cover 31.89% of our TV+Internet bill for the last month;
$3.18 from Realty Income & $10.37 from Welltower would cover 2.13% of our monthly Rent;
$6.05 from Procter & Gamble would cover 1.72% of what we spent on Cosmetics & Hygiene items during the last 3 months;
Finally, $8.36 from Starbucks would cover 2.12% of our Eating Out expenses for the last 3 months.
There is long way to go for dividends to cover significant amount of our monthly expenses but performing this fun exercise gives me motivation to keep going.
Year-on-Year Comparison
Let's see how dividend income this August compares to the August a year before:
Not quite doubling dividend income compared to last year but 46% increase is not too bad.
CVS Health was the only company which hasn't increased their dividend compared to last year. However, this was expected when I bought them, as their priority is paying down debt.
The biggest contributor to the growth was the new dividend from Welltower which joined my portfolio in May of this year.
This is how my dividend income progress looks like since the beginning of 2016 when I started tracking it: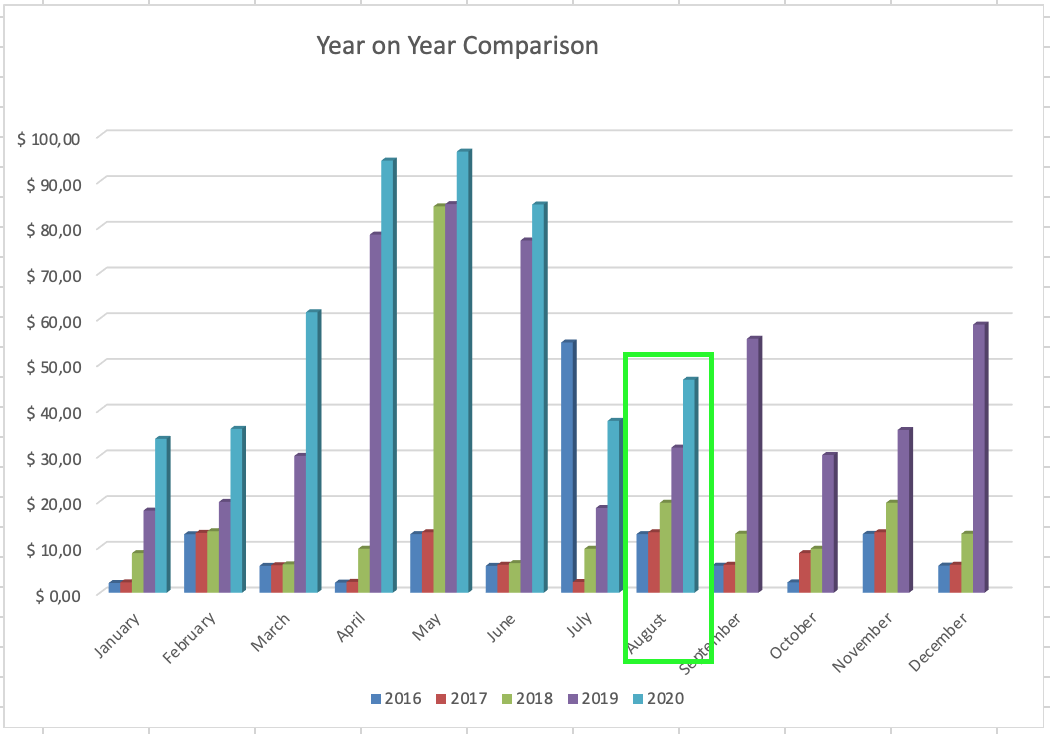 Purchases and Portfolio Contributions
This month I added €500 to my investment accounts.
I also made 4 transactions in total by selling one stock and making 3 small purchases. These are the trades I made:
Sold 160 shares of Vilkyskiu Pienine for €1.92/share (-€2 commission) for a total of €305.20;
Bought 200 fund units of Baltic Horizon Fund at €1.154/unit for a total of €230.80;
Bought one share of Altria Group at $43.58;
Bought 3 shares of Slack Technologies at $29.32 for a total of $87.96.
These trades added ~€12.60 to my forward annual dividend income. You may read more about the transactions here.
Changes in Projected Annual Dividend Income
I am continuing the tradition from last year to track changes in Projected Annual Dividend Income. It is coming from two sources – Dividend raises/cuts and new investments.
Let's see how forward dividend income changed during August:

August was the smallest month in terms of added forward dividend income. Partially, this is because I only track dividends from US companies this way, so it doesn't include the newly added units of Baltic Horizon Fund. European companies don't have the traditions to keep their dividends growing, so I don't like to take them for granted.
For comparison, I am also adding the table from previous year:
P2P Lending Income
Let's see how much income was added from interest in P2P lending:
Interest from P2P lending added up to €9.05 which is exactly the same as last month. Some loans are late, so it's again below the €10 mark.
P2P loans portfolio takes 4.49% of my overall portfolio. Last month, I reduced my target allocation in this type of investment from 5% to 4%. I feel that this is the riskiest and the least liquid part of my portfolio. On the other hand, the interest is pretty high, so I am reinvesting received funds to new loans automatically.
If you would like to sign up with Mintos and receive some cashback, feel free to use my referral link (I would also get a small commission).
Summary
In total (after converting to EUR), I received €48.58 from passive income during August. This brings the total for 2020 so far to €511.24 which is 51% of my goal to receive €1000 from passive income this year. With two thirds of the year behind us, I guess I was too optimistic at the start of the year 🙂
Nevertheless, I am happy to receive almost €50 in a month for doing nothing. The amounts are slowly growing and they will just keep getting bigger. Seeing the progress is one of the things I like the most in this journey.
How was your month? Are you sharing any dividend payers with me? Have you enjoyed your summer? As always, thanks for visiting and I would love to hear from you! 🙂