The first month of autumn is in the books. It was full of activities in our family. Our daughter started going to kindergarten, had her baptism and we celebrated her second birthday. Both me and my wife have been working from home for the whole month and it's quite convenient when you get used to it. Especially, when our daughter is in kindergarten.
Now let's get to the main topic of this post – passive income for the month of September.
Dividend Income
Last month of the quarter tends to be the most favourite month for companies to pay dividends. My portfolio is no exception, with 9 companies paying in September: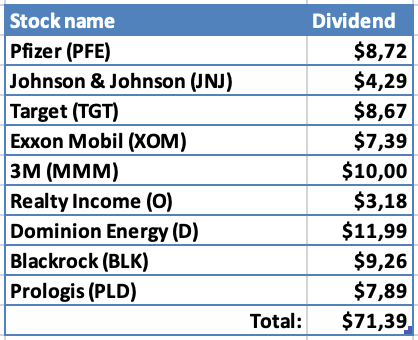 Two companies paid at least $10 this month. The biggest contributor was the Utility company Dominion Energy (D), followed by Blackrock (BLK).
As always, let's see what part of expenses of different categories in my budget the dividends could cover if I decided to spend them:
$8.72 from Pfizer and $4.29 from Johnson & Johnson would cover 14.8% of our expenses in Health category for the last 3 months;
$8.67 form Target would cover 0.6% of our expenses on Food for the last 3 months;
$7.39 from Exxon Mobil would cover 5.7% of our Car & Transportation expenses for the last 3 months;
$10.00 from 3M would cover 0.5% of what we spent on Baby related expenses (mainly Daycare) during the last 3 months;
$3.18 from Realty Income and $7.89 from Prologis would cover 1.73% of our monthly Rent;
$11.99 from Dominion Energy would cover 3.2% of our Utilities bills for the last 3 months;
Finally, $9.26 from Blackrock could cover 43.6% of our expenses in Banking category for the last quarter.
There is long way to go for dividends to cover significant amount of our monthly expenses but performing this fun exercise gives me motivation to keep going.
Year-on-Year Comparison
Let's see what the difference year-on-year looks like: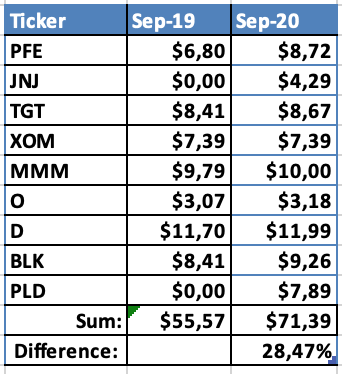 Dividend income increased by 28% compared to last year, which is not bad. Most of the increase came from the new positions in Johnson & Johnson (JNJ) and Prologis (PLD).
The only company that paid the same dividend as last year was Exxon Mobil (XOM). It's not a good time for oil companies, so I am happy that they at least did not cut it yet.
All other companies awarded me with slightly bigger dividends, compared to last year.
This is how my dividend income progress looks like since the beginning of 2016 when I started tracking it: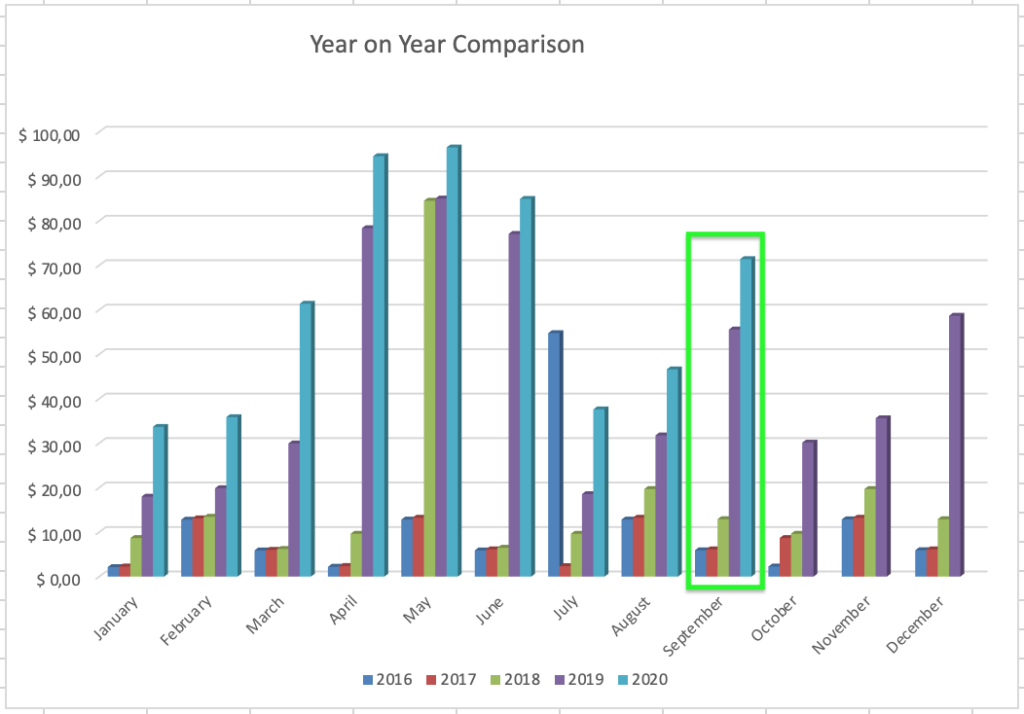 Purchases and Portfolio Contributions
This month I added €500 to my investment accounts.
Similar to last month, instead of making a big purchase, I made a few small buys of companies I already had in my portfolio:
100 units of Baltic Horizon Fund at €1.146/share for a total of €114.60;
4 shares of Slack (WORK) at $25.99/share for a total of $103.96;
1 share of Johnson & Johnson (JNJ) for $147.58;
2 shares of Altria Group (MO) at $39.54/share for a total of $79.08.
It adds ~€12 (€5.1 + $9.27) to my net forward annual dividend income. You may read more about the buys here.
Dividend Increases/Cuts
This month, one company announced a dividend increase:
Realty Income announced their regular quarterly dividend increase. It only adds a few cents to my annual dividend income but at least it is going to the right direction in this volatile environment.
Changes in Projected Annual Dividend Income
I am continuing the tradition from last year to track changes in Projected Annual Dividend Income. It is coming from two sources – Dividend raises/cuts and new investments.
Let's see how forward dividend income changed during September:

September was again on the smaller side in terms of added forward dividend income. I only made small purchases and one of them was in a European company whose dividends I don't rely on and therefore don't put it on this table.
For comparison, I am also adding the table from previous year:
P2P Lending Income
Let's see how much income was added from interest in P2P lending:
Interest from P2P lending added up to €9.88 which is slightly higher than in previous month.
P2P lending portfolio currently takes 4.42% of my portfolio which is close to my target of 4%. Even though the profit from this platform looks nice, I don't want it to be a big part of my portfolio due to related risk it brings.
If you would like to sign up with Mintos and receive some cashback, feel free to use my referral link (I would also get a small commission).
Summary
In total (after converting to EUR) I received €70.81 from passive income during September. This brings the total for the year to €582.05. This is just 58% of my goal to receive €1000 in passive income during 2020. On the bright side, I already surpassed the total passive income I received last year (€573), so I can't complain.
How was your September? Is the weather still nice where you are? Are you on track to reach your goals this year? Thanks for reading and I would love to hear from you! 🙂