October was a tough month to me. Towards the end of the month, my parents and brother got sick with COVID-19. Unfortunately, it coincided with some additional health problems for my mother and it's hard to get proper treatment when you're infected. It's quite stressful at the moment but I'm trying to stay positive.
On the bright side, I completed a "Sober October" challenge I created with a few colleagues. During the month, I didn't consume any alcohol, didn't eat any sugar treats, did some sports every day, read a book each day for at least 30min and learned something related to my career in IT sector.
Also, I received my first interest payment from a bond I purchased in Spring. Dividends have also grown well compared to last year. Let's see how much passive income I received this month.
Dividend Income
6 companies paid dividend to me this month: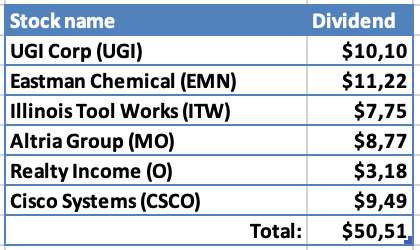 Receiving $50 in the first month of a quarter is not too bad, so I can't complain. I received my first dividend from UGI Corp and it was already in double-digits. It was surpassed only by Eastman Chemical which was the biggest dividend payer this month with $11.
As always, let's see what part of expenses of different categories in my budget the dividends could cover if I decided to spend them:
$10.10 from UGI Corp could pay for 10% of our Utilities bills this month;
$11.22 from Eastman Chemical would cover 3.9% of our expenses on Clothes for the last 3 months;
$8.77 from Altria Group could pay for 5.2% of what we spent on Alcohol during the last 3 months;
$7.75 from Illinois Tool Work would cover 5.2% of our expenses in Home category for the last 3 months;
$3.18 from Realty Income would cover 0.5% of our monthly Rent;
Finally, $9.49 from Cisco Systems would cover 15.4% of our TV + Internet subscription for the last 2 months.
There is long way to go for dividends to cover significant amount of our monthly expenses but performing this fun exercise gives me motivation to keep going.
Year-on-Year Comparison
Let's see how dividend income this month compares to October 2019: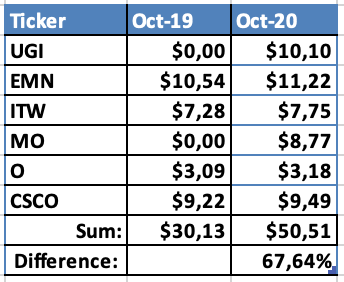 I can't complain about the growth of 67%, compared to previous year. I had two new companies paying me dividend (UGI Corp & Altria Group) and all other companies also raised their dividend throughout the year.
This is how my dividend income progress looks like since the beginning of 2016 when I started tracking it: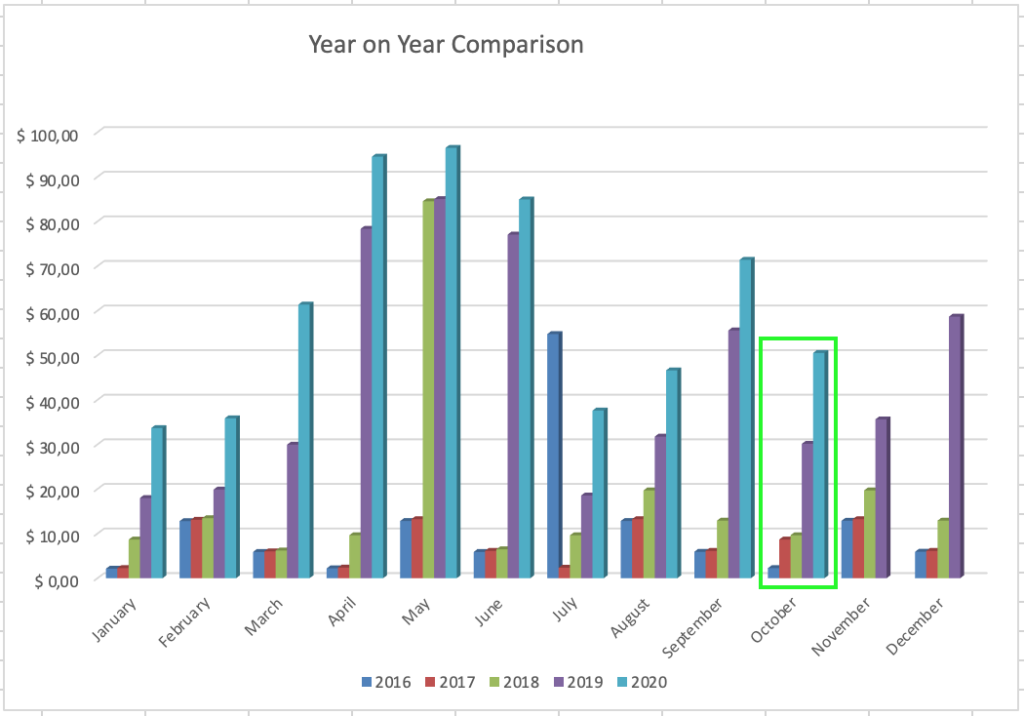 Purchases and Portfolio Contributions
This month I added €900 to my investment accounts.
I used all of this amount to participate in an IPO of a Lithuanian company – Ignitis Grupe (IGN1L).
I bought 40 shares at €22.5/share for a total of €900.
This purchase adds €38.42 to my net forward dividend income, if company sticks to its target of dividend payments.
You may read more about the purchase here.
Dividend Increases/Cuts
This month none of my companies increased or cut their dividend.
However, I found out that Dominion Energy (D) is planning to "re-base" their dividend after they sold some of their business. They only announced it officially a few days ago but it was clear to happen back in July.
On the bright side, it turns out that I missed an announced increase from Starbucks (SBUX) on the last day of September. They raised their dividend by 9.76% which results in a net annual dividend income increase of $4.22 for my portfolio.
Changes in Projected Annual Dividend Income
am continuing the tradition from last year to track changes in Projected Annual Dividend Income. It is coming from two sources – Dividend raises/cuts and new investments.
Let's see how forward dividend income changed during October:

I decided to start including Dividend raises/cuts and Capital investment to European companies as well going forward. In the end, my portfolio has quite a few companies here in Europe so it will better reflect the situation. I expect to see more negative numbers in "Dividend Raises" part of the table as a result, as European companies don't have traditions to keep raising dividends each year.
For comparison, I am also adding the table from previous year:

P2P Lending Income
Let's see how much income was added from interest in P2P lending: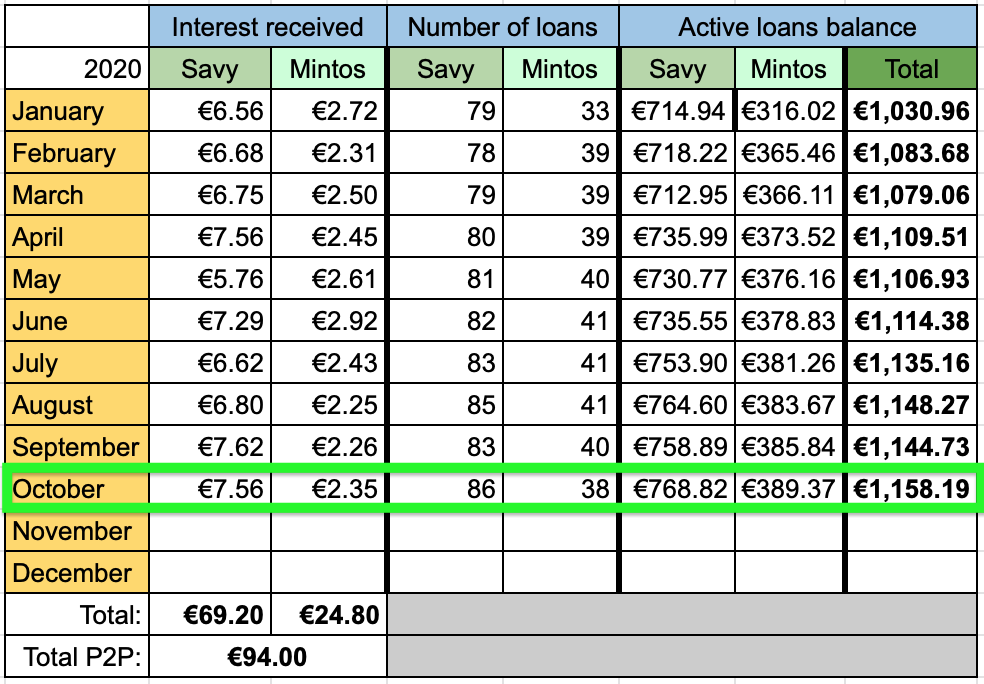 Interest from P2P lending added up to €9.91 which is very similar to last months.
P2P lending portfolio currently takes 4.07% of my portfolio which is close to my target of 4%.
This part of my portfolio is pretty much on auto-pilot, as I only keep reinvesting the interest and don't add any additional funds, at least for now.
If you would like to sign up with Mintos and receive some cashback, feel free to use my referral link (I would also get a small commission).
Bond Interest
I am including a new section to my passive income review this month, since I received the first interest payment from a bond I bought this Spring. I received €25 in interest, just as planned.
It's nice to receive some passive income from another type of investment.
Summary
In total (after converting to EUR) I received €77.61 from passive income during October. This brings the total for the year so far to €659.66. It's only 66% of my goal to receive €1000 from passive income this year but I realised that the goal was too ambitious awhile ago.
Passive income is still growing and going to the right direction, so I am grateful for that.
How was your month? Have you reached any records? Are you sharing any payers with me? As always, thanks for reading and I would love to hear from you! 🙂