We are well into the new year, so it's time to review passive income for the last month of 2020. It was a different December, compared to previous ones, at least in Lithuania. Due to worsening Covid-19 situation, we did not have opportunity to spend Christmas with our parents and other relatives. However, I am lucky enough to have my own family, so I can't complain, since we had a nice celebration with my wife and daughter.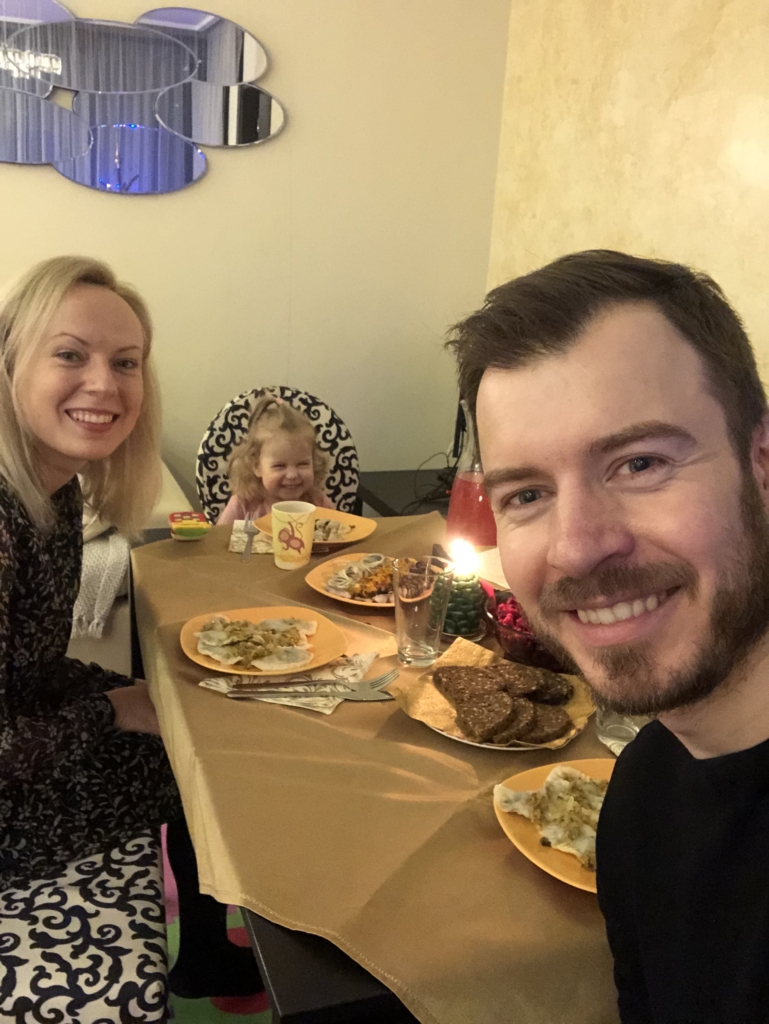 On the passive income front, it was also not a bad month. Let's see how much passive income December brought.
Dividend Income
This month 9 companies paid dividend to me: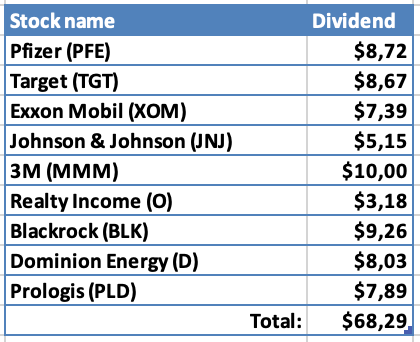 Almost $70 received is nothing to complain about for my portfolio.
The only company to pay double-digit dividend was 3M (MMM), which provided exactly $10 (after taxes).
As always, let's see what part of expenses of different categories in my budget the dividends could cover if I decided to spend them:
$8.72 from Pfizer and $5.15 from Johnson & Johnson would cover 26% of our expenses in Health category for the last 3 months;
$8.67 form Target would cover 0.5% of our expenses on Food for the last 3 months;
$7.39 from Exxon Mobil would cover 1.6% of our Car & Transportation expenses for the last 3 months;
$10.00 from 3M would cover 0.7% of what we spent on Baby related expenses (mainly Daycare) during the last 3 months;
$3.18 from Realty Income and $7.89 from Prologis would cover 1.7% of our monthly Rent;
$8.03 from Dominion Energy would cover 2.5% of our Utilities bills for the last 2 months;
Finally, $9.26 from Blackrock could cover 42.3% of our expenses in Banking category for the last quarter.
There is long way to go for dividends to cover significant amount of our monthly expenses but performing this fun exercise gives me motivation to keep going.
Year-on-Year Comparison
Let's see how dividend income this month compares to December 2019: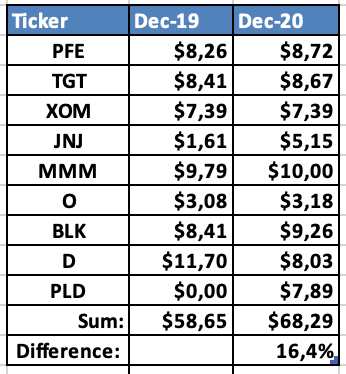 Increase of 16% is not too bad. I had a lower payout from Dominion Energy (D) after their dividend cut. However, this was compensated by the new position of Prologis (PLD), increased position of Johnson & Johnson (JNJ) and dividend raises from other companies.
This is how my dividend income progress looks like since the beginning of 2016 when I started tracking it: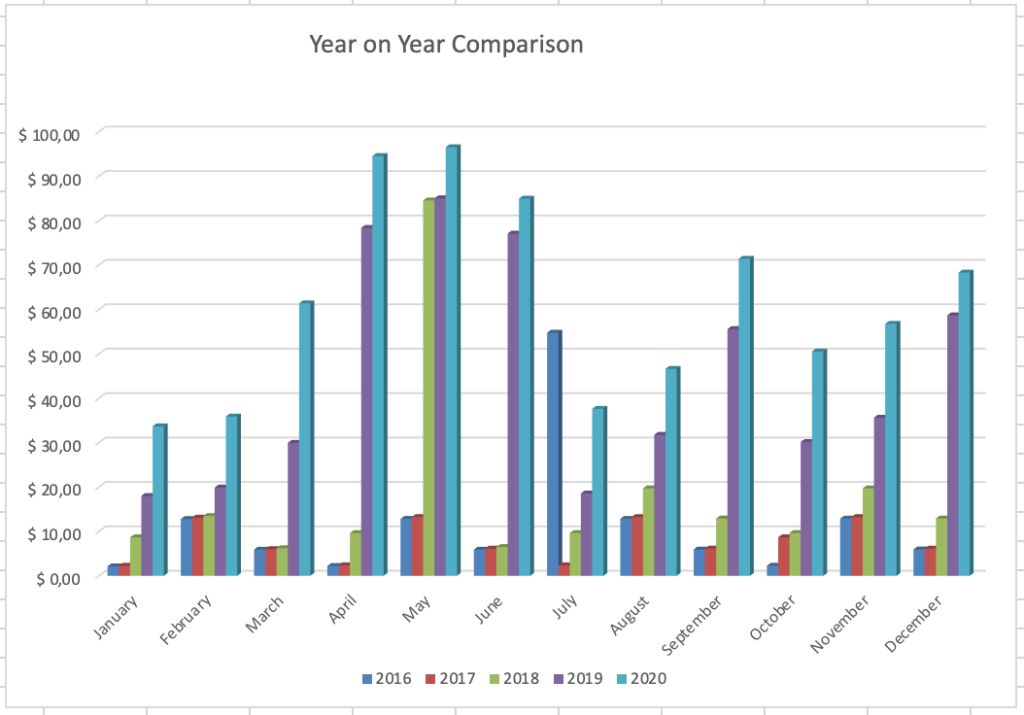 Purchases/Sales and Portfolio Contributions
Unfortunately, I didn't have any available funds to contribute to my portfolio in the last month. On the contrary, I actually made some selling by trimming my biggest position.
On the 11th of December I sold 5 shares (a third of my position) of Target (TGT) for a total of $857.5:

This sale results in a reduction of $11.56 in my net forward annual dividend income. It also results in a realised profit of €425.35.
The main reason for selling part of this position was to use the profit tax exemption of realised profits up to €500 in a calendar year in Lithuania. I am planning to sell most of my portfolio at some point in 2021. We will need it as a down payment for home we are planning to buy. So I decided to start selling in 2020, to lessen the tax burden in 2021.
Dividend Increases/Cuts
During December, 3 companies declared dividend increases:

It's a smaller number compared to December 2020, when 5 companies in my portfolio announced increases. However, I will take any increase in 2020, when there were so many cuts instead of increases.
Changes in Projected Annual Dividend Income
I am continuing the tradition from last year to track changes in Projected Annual Dividend Income. It is coming from two sources – Dividend raises/cuts and new investments.
Let's see how forward dividend income changed during December:

For the second month in a row, Added Forward Dividend Income is negative. However, this was expected and I knew that it was going to happen, so it's not a surprise.
Overall, forward dividend income increased by $195 during 2020. Now that I see it, it would have been nice to achieve the symbolic $200. However, I had to make a pause in building my portfolio and I will need to start it over at a later point.
P2P Lending Income
Let's see how much income was added from interest in P2P lending:
Interest from P2P lending added up to €9.40 which is similar to last months.
I stopped reinvesting received back loans lately, so it's going to shrink further in the future.
Currently, my loans portfolio consists of €1124.
During 2020, I received €113 in interest from passive income, which is a nice addition to passive income.
Summary
In total (after converting to EUR), I received €65.93 from passive income during December. This brings the final amount for year 2020 to €782.47. Even though I fell way short of my target of €1000, I am still happy with the results, as I had some headwinds this year. This is also more than €200 more compared to what I received from passive income in previous year.
Looking forward to 2021, passive income or investing is not going to be the main target. We will focus on buying a home which means that we will need to liquidate most of the portfolio. However, once this is done, I can't wait to get back to the game of dividend investing.
How was your year? What's your plan for 2021? I hope 2020 treated you well. As always, thanks for reading! 🙂