It's time to get back to monthly summaries for my portfolio. Currently, they are going to be short, as my portfolio is almost empty. But it should get better as the year progresses.
Passive Income
During January, I received €7.43 in passive income.

The biggest part this month came from interest in P2P lending. Also, I received a small amount of interest from a Real Estate Crowdfunding project.
Passive income in January would cover 0.7% of our Mortgage payment which is the biggest expense in our budget at the moment.
Investments and Portfolio Contributions
Early in the month, I invested €100 to a new real estate crowdfunding project with a 7% interest. It's an investment for 11 months, so it should generate €6.79 of interest throughout the year and investment should be returned at the end of 2023, if everything goes according to plan.
My Real Estate Crowdfunding part of portfolio was already above desired allocation but I couldn't resist to invest another small amount. My other investment in this platform will be returned in May, so that's my excuse.
I also contributed €260 to my investment accounts for stocks. It's waiting for a bigger amount to accumulate to be able to buy some shares in a company.
All together, I contributed €360 to my portfolio during January, which is slightly lower than my goal of contributing €417/month on average during 2023.

Portfolio Overview
This is how my portfolio looked like on the 1st of February:
Portfolio is approaching €3k mark but it will take a couple more months, as I don't have plans for new investments in February. I will just contribute some cash to my investment accounts.
And this is how current portfolio composition looks like from sectors/investment categories perspective, compared to desired allocations: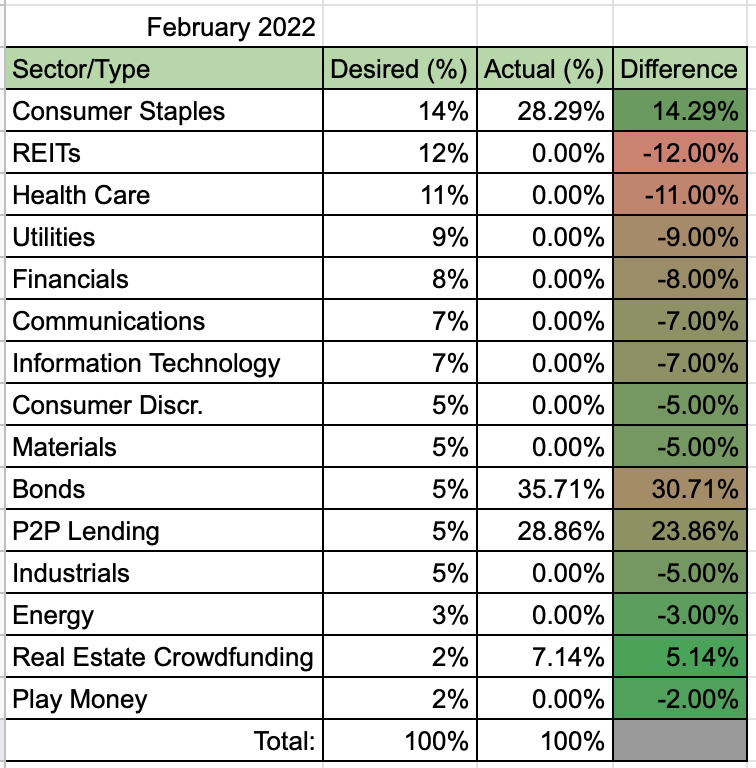 My next target should be some REIT or a company from Health Care sector.
Summary
€7.43 in passive income is 4.0% of my goal to receive €183 from passive income during 2023.
Getting back to investing and writing about it feels good. Even though the amounts are very small again, it is exciting to make those small steps. The road is going to be long but I love the journey 🙂