Another month has passed and what a month it has been! I've been enjoying my life and good weather for sure. Doing sports was part of the fun and I wasn't lagging behind. I managed to participate in two triathlon races, broke my Olympic distance record again but let's start from the beginning. These were the highlights for the month of July:
Olympic distance triathlon in Trakai;
Olympic distance triathlon in Jonava;
My challenge of not eating any sweets for a month.
As always, I will start with summary of all the activities I logged during the month:
This is slightly less than last month but I will consider spending at least one hour a day in average doing sports as a great result. I could have spent more time cycling when I look at it now, as it's my weakest discipline in triathlon. On the other hand, I had two races this month and needed to reduce the volume to be rested for those.
These were the longest sessions during July:
Longest run – 35km (up from 25km in June);
Longest bike ride – 102km (up from 86km in June);
I think I am not going to top those distances this year, as the end of the season is approaching.
Trakai Triathlon
At the beginning of July, I participated in probably the biggest triathlon event in Lithuania – Trakai triathlon. It was again an Olympic distance triathlon where you need to swim 1,5km, cycle 40km and then run 10km. It is my third time participating in this event. It took place in a beautiful setting near a castle:
This event was different from the ones I participated earlier this year. It was an official Lithuanian championship race, so it had to adhere to the international triathlon rules. Due to that, bike part had two main differences:
only road bikes were allowed (no time-trial bikes);
drafting was allowed.
I actually loved this change. Since I only have a road bike, it works for me. It makes the competition more even, as the time trial bikes are fundamentally faster. I also liked the drafting part. Cycling is my weakest discipline and being able to draft (stay close behind to bike in front) really helped here. If you have ever tried to follow another bike very closely, you should know what a difference to the effort needed it makes.
This is how the race went for me:
Swim: 00:28:16
Transition1: 00:01:57
Bike: 01:12:02
Transition2: 00:01:16
Run: 00:49:32
Total time: 02:33:05 (43rd out of 130 participants, 40th out of 125 men) – PERSONAL BEST!
What a difference that rule change made. I reached my personal record one more time, beating the one standing since last month by more than 8 minutes! Since the drafting was allowed here and is not allowed in most of the other competitions I am taking part in, I think I should have two categories for tracking my records – drafting-allowed and non-drafting events.
However, disregarding the rules, I am super happy with my result in general, when looking at the placing among other competitors. It is probably the first time when I finished in top 50% in an event. And I even managed to finish in top 33% this time! It gives me motivation to train as I see that the work is paying off.
Olympic triathlon in Jonava
I participated in one more event during July – 4th stage of Lithuanian Triathlon Cup which took place in Jonava. It was again an Olympic-distance triathlon. It was different to other events in a few aspects. Firstly, for the first time in my triathlon career, wet-suits were not allowed during the swimming part due to higher water temperature. Wet-suits help to stay afloat and they make you faster. In addition, the bike part was longer by ~4km (44km instead of 40km). And lastly, the running part was very challenging with a long hill at the beginning of each of 4 laps. On the other hand, it is the same for all. I just knew that this event will not be good for trying to set new records 🙂 This is how it went for me:
Swim: 00:33:17 (24th out of 90 participants)
Transition1: 00:01:48
Bike: 01:21:05 (45th)
Transition2: 00:01:05
Run: 00:50:19 (38th)
Total time: 02:47:36 (37th out of 90 participants, 35th out of 83 men)

Not a record this time (as expected) but I am happy with the results. I managed to finish in top 50% one more time. I like the trend and I hope it continues! 🙂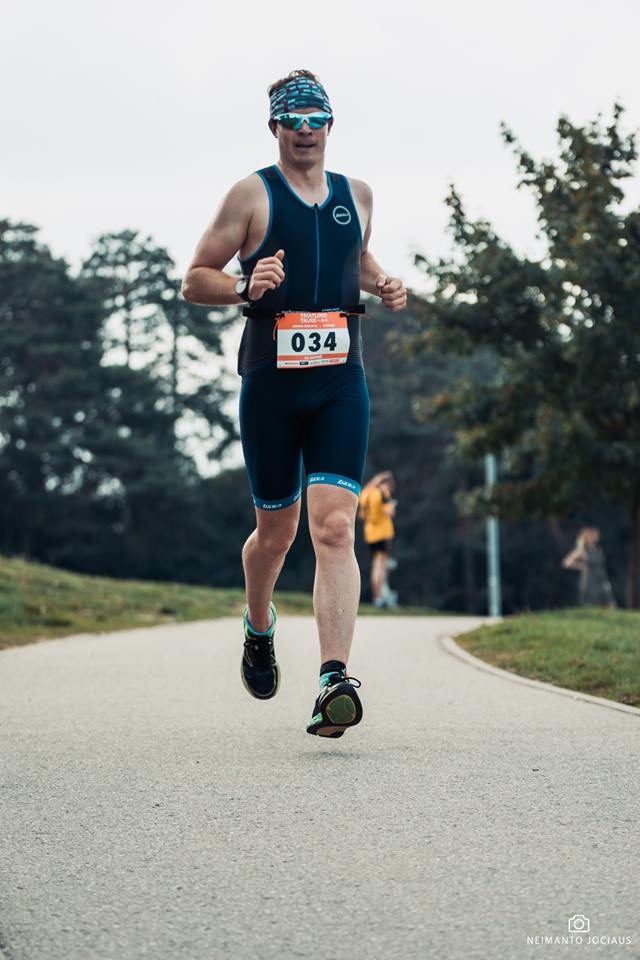 After 4 races in Lithuanian Triathlon Cup, I am sitting comfortably at top 50% of the field which was one of my goals for 2018.
Challenge of not eating sweets
In the summary of June, I set a challenge to myself – not to eat any sweets/cakes/milk chocolates etc for a month. I am glad to say that I was able to stick to the plan (thank you, blog!). It wasn't easy at times, especially when a colleague of mine brought one of my favorite cakes (home-made by his wife) to work. But I resisted the temptation that and many other times 🙂 I found some workarounds, as it is now possible to buy some really tasty ice-cream without any added sugar. I haven't noticed much difference in my overall health or sense of well-being, as it was only a month but I definitely didn't feel worse and I think I lost a kilogram or so. Therefore, I am going to extend the challenge with milder rules – I will let myself eat some dessert once a week.
Going Forward
Looking into August, there is only one big target for it – Half-Ironman distance triathlon in Zasliai. When I am writing this, it's already in the past but I will report about it next month 🙂
I am currently resting a little but will need to continue training for marathon which is due to come in a month's time. That's how my sports season will end this year and I will slow down on training, will start visiting gym again (at least that's the plan). But we still have one month to go until that time 🙂
How was your month? Are you staying active? I would be happy to read your comments!