Summer is in full swing and June was another great month. Our baby-girl is growing well. It seems that she is changing and learning new things everyday. She even has 4 teeth already! We also had a short 4-day getaway to the seaside this month. It was great to spend some time with old friends and read some books on a terrace. It feels good to know that our portfolio was working behind the scenes while we were having a great time 🙂 Let's dig in to the numbers!
Dividend Income
This month I received dividends from 6 great companies:
$77 is not too shabby, especially for my portfolio. It's the last month where I receive dividends from a company which pays dividends once a year (Uniqa this time), so I will not enjoy such big months going forward.
As always, let's see what part of expenses, related to the companies, the dividends could cover if I decided to spend them:
€38.42 from Uniqa Insurance Group would cover 51% of our compulsory annual car insurance. We don't pay any other insurances in our family and our car does not require an expensive insurance, so it's pretty good;
$6.80 from Pfizer would cover 74% of our healthcare related expenses for the last 3 months;
$2.54 from Realty Income would cover 0.4% of our monthly Rent;
$8.16 from Target would cover 0.7% of what we spent on Food during the last 3 months;
$7.39 from Exxon Mobil would cover 0.9% of our Car & Transportation expenses for the last 3 months. This time we spent quite a lot on car, as it had some maintenance done and there were a lot of long trips during the last few months. Expenses in this category should be much smaller for the remainder of the year;
$8.41 from BlackRock would cover 45% of our expenses in Banking category for the last 3 months.
There is long way to go for dividends to cover significant amount of our monthly expenses but performing this fun exercise gives me motivation to keep going.
Year-on-Year Comparison
Let's compare dividend income to June of last year: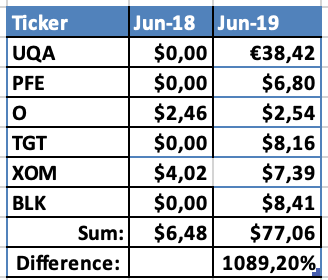 That's what I'm talking about! I received almost 12 times more than last year! Let's see what caused this kind of increase:
Biggest part of increase was influenced by recent purchase of UQA which pays dividend once a year. I actually expected even more from them but I forgot about the taxes. It turns out that I need to pay 27.5% withholding tax for dividends from Austrian companies. I was warned about this when I spoke with a representative from my broker, so I can only blame myself for this;
Three new payers (PFE, TGT & BLK) that I purchased during the last 12 months;
XOM increased their dividend and I added to this position when I moved them to my new broker where I need to pay less taxes on dividends;
Small dividend increase from O also contributed to the growth slightly.
All in all, I am very happy with the increase. It looks like saving and investing part of our income constantly is finally starting to pay off.
This is how my dividend income progress looks like since the beginning of 2016 when I started tracking it:
Purchases and Portfolio Contributions
This month I added €800 to my investments account.
I used this amount and some previous savings to add a new stock to my portfolio. On the 5th of June I purchased 8 shares of 3M (MMM) at $165/share for a total of $1327 (including commissions). You may read more about this purchase here. This adds $39.16 to my forward annual dividend income (after taxes).
I also added €50 to Mintos P2P lending account.
Dividend Increases
After empty May, I received two dividend increase announcements during June:

Above dividend increases are quite small but every little bit counts. I am grateful to see that my passive income grows without me needing to do anything.
Changes in Projected Annual Dividend Income
As I mentioned in previous posts, I have a goal to increase my PADI to $450 from US companies this year. At the start of the year it was standing at $236. This means that I should add additional $214 (or $18/month in average) if I want to achieve the target.
To track the progress, I monitor PADI increase/decrease from two sources – dividend increases and capital contribution.
Let's see how forward dividend income changed during June:
June was the best month this year so far for added PADI. I am on track to achieve the goal if I continue at this rate.
P2P Lending Income
Let's see how much passive income I received from another source – P2P lending:
In total, I received €8.4 in interest from P2P lending this month. Current loans portfolio stands at €907.62.
The income from Mintos is slowly growing, as I add tiny amounts to this platform each month. I also received a small "Campaign reward" of €0.56, as I used a referral link when signing up for an account with Mintos. I would have gotten more if I invested more but I would like to keep my main focus on dividend-paying companies instead of P2P lending. If you would like to sign up with Mintos and receive some cashback as well, feel free to use my referral link (I would also get a small commission).
Summary
In total (after converting to EUR) I received €76.06 during June. This brings the total for 2019 so far to €316.34 which is 66% of my goal to receive €480 from passive income this year. The big months are over but I am well ahead of the target at the moment, so I should be able to reach the goal easily. Perhaps I should even increase the goal – I will give it some thought.
How was your month? Are you sharing any payers with me? Are you on track to reach your goals this year? Please don't hesitate a leave a comment and thanks for reading! 🙂