Another month passed which means that I can sit down and review the passive income my portfolio generated. It's hard to believe that we are already into winter months. I can already feel the Christmas spirit, especially when it started snowing a couple of days ago.
November was a slightly more stressful month. We started preparation of my wife going back to work and our baby-girl staying with a nanny, starting from December. It's been just a few days so far but it seems that it is going better than expected. Fingers crossed that it will stay this way.
On the other hand, my portfolio did not show any signs of stress and was firing on all cylinders. It surpassed the €20k mark for the first time. Let's see how much passive income it generated during the month.
Dividend Income
This month 5 great companies paid dividend to me: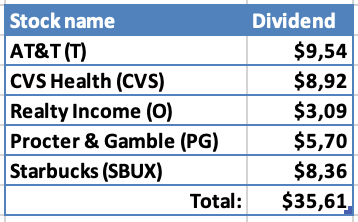 Nothing too impressive but those seeds I planted some time ago keep growing and delivering some passive income I don't need to work for anymore.
As always, let's see what part of expenses of different categories in my budget the dividends could cover if I decided to spend them:
$9.54 from AT&T would cover 39.7% of our Cellphone bill for the last 3 months;
$8.92 from CVS Health would cover 4.9% of our expenses in Barber category for the last 3 months;
$3.09 from Realty Income would cover 0.5% of our monthly Rent;
$5.70 from Procter & Gamble could pay for 5.8% of our expenses on Cosmetics & Hygiene for the last 3 months;
Finally, $8.36 from Starbucks would cover 2.7% of our Eating Out expenses for the last 3 months.
There is long way to go for dividends to cover significant amount of our monthly expenses but performing this fun exercise gives me motivation to keep going.
Year-on-Year Comparison
Let's see how dividend income compares to November of last year: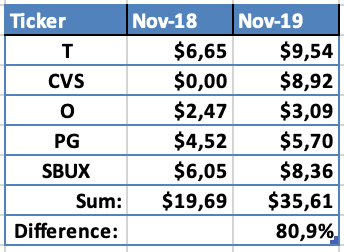 I can't complain about growth of 80%! Let's see what made the difference:
Biggest difference was made by new addition of CVS to my portfolio;
Slightly increased position of AT&T;
Dividend raises from all the companies throughout the year.
This is how my dividend income progress looks like since the beginning of 2016 when I started tracking it: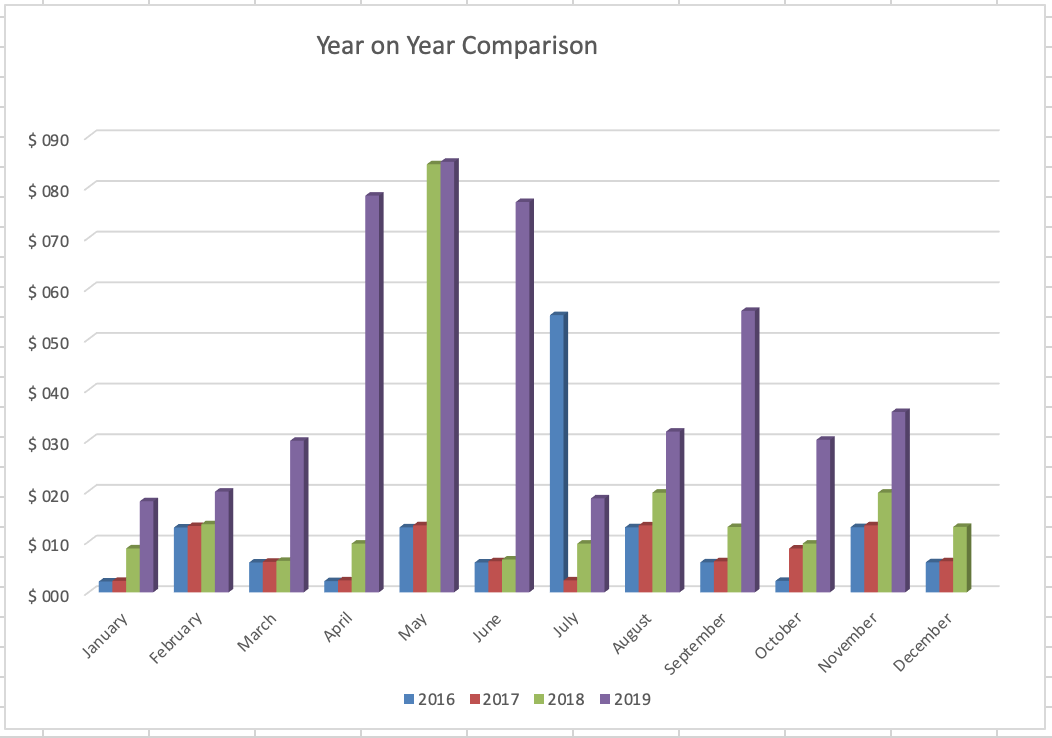 Purchases and Portfolio Contributions
This month I added €500 to my investment accounts. I used some of this money to purchase small amounts of two stocks:
On the 11th of November, I bought one share of Johnson & Johnson (JNJ) for $131.72 + $1.10 in commissions;
On the 11th of November, I bought two shares of Altria Group (MO) at $46.37/share for a total of $92.74.
Those small buys added $8.94 to my forward annual dividend income. You may read more about these buys here.
I did some reshuffling in my P2P portfolio, as there is a lot of cash drag in Savy platform. I withdrew €40 from this platform and funded my Mintos account by €50, so it's a net investment of €10.
Dividend Increases
This month none of my companies declared dividend increases, so nothing to report here. December should be a better month in this front.
Changes in Projected Annual Dividend Income
As I mentioned in previous posts, I have a goal to increase my PADI to $450 from US companies this year. At the start of the year it was standing at $236. This means that I should add additional $214 (or $18/month in average) if I want to achieve the target.
To track the progress, I monitor PADI increase/decrease from two sources – dividend raises/cuts and capital contribution.
Let's see how forward dividend income changed during November:
It was one of the smallest months in terms of added dividend income. However, I already reached the annual goal, so it's not a disaster.
P2P Lending Income
This is how my income from P2P lending looked like in October:
Interest from P2P lending added €9.54 to passive income this month. It's slightly lower compared to last month, as there was some previously mentioned cash drag in Savy platform. P2P lending is pretty much on autopilot now, so there shouldn't be many changes in the nearest future in this front.
In general, I would like to keep P2P lending portfolio at ~5% of my overall portfolio. Currently it stands at 4.8%.
If you would like to sign up with Mintos and receive some cashback, feel free to use my referral link (I would also get a small commission).
Summary
In total (after converting to EUR) I received €41.7 from passive income this month. This brings the total for 2019 to €512.2 which already exceeds my goal to receive €480 from passive income this year! I still have December left, so let's see how far we can go!
How was your November? Are you close to achieving your goals for 2019? Do you share any of the dividend payers? I would love to hear from you!