Every month, I review my portfolio to see what changed, what are my top/bottom positions and what direction it should take next. It's time to see what happened with the portfolio during the month of August.
Portfolio Overview
Let's start with how my overall portfolio looked like at the end of August:
Portfolio value increased by ~€500 during the month. I haven't made any net investments, so it's mainly price movement.
One stock was liquidated from the portfolio and another one was added. I sold my position in Vilkyskiu Pienine (VLP1L) and started a position in Baltic Horizon Fund. Therefore, number of individual companies remains the same as last month – 25.
Target (TGT) is still my biggest winner by a big margin. Its size in my portfolio more than doubled since I purchased it at the end of 2018.
On the other hand, Uniqa Insurance Group (UQA) is my biggest loser so far. I would experience loss of more than $400 if I decided to sell the position. I am thinking to give the company a chance, since it's the only Insurance company in the portfolio, and hopefully it already reached the bottom.
Price Movement
Next, let's see how price of individual holdings changed during the reporting period (30th July – 31st August):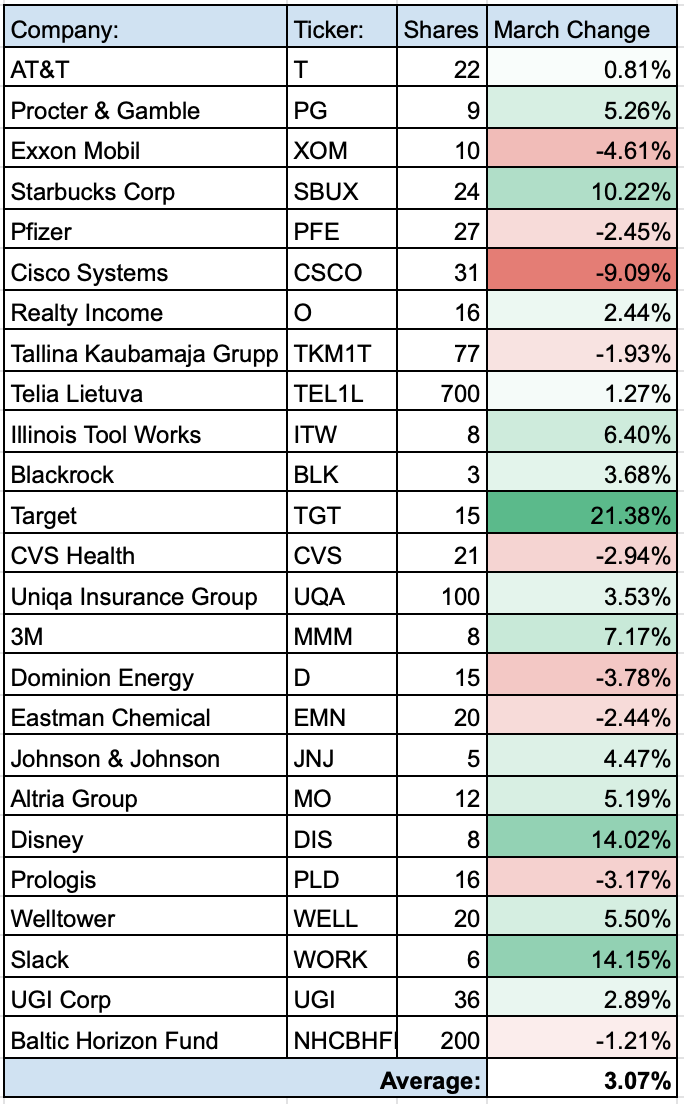 I like to see more green colour than red in the table. I had 9 companies to decrease in value while price of 16 companies increased.
Out of the gainers, 4 companies increased by more than 10%. The field was led by Target (TGT) which gained 21%. It was followed by Slack (WORK), Disney (DIS) and Starbucks (SBUX) in that order.  Interestingly, Slack should be one of the biggest losers in September but that's topic for another month.
Regarding laggards, Cisco Systems (CSCO) lost the most during the month – 9%. They provided some negative guidance during their earnings release and it had a big effect on their price immediately.
I don't worry too much about the price fluctuation but it's quite interesting to see what's happening with companies in my portfolio.
Top/Bottom Portfolio Positions
These were my Top and Bottom portfolio holdings at the end of August:
The only change among the Top positions is Illinois Tool Works (ITW) coming into the mix. It replaced Eastman Chemical (EMN) which is no longer among the Top5 positions in my portfolio.
Regarding the smallest positions of my portfolio, there were also several changes. Baltic Horizon Fund replaced the liquidated position of Vilkyskiu Pienine (VLP1L). I am planning to slowly increase my exposure to this REIT as the time goes by. Also, AT&T (T) became one of the smallest positions. It is now smaller than Uniqa Insurance Group (UQA) which was in this list last month.
Purchases/Sales
I made 4 transactions in total by selling one stock and making 3 small purchases. These are the trades I made:
Sold 160 shares of Vilkyskiu Pienine for €1.92/share (-€2 commission) for a total of €305.20;
Bought 200 fund units of Baltic Horizon Fund at €1.154/unit for a total of €230.80;
Bought one share of Altria Group at $43.58;
Bought 3 shares of Slack Technologies at $29.32 for a total of $87.96.
These trades added ~€12.60 to my forward annual dividend income. You may read more about the transactions here.
Sector Allocation
Finally, I like to see where I stand in terms of Sector Allocation. This is how it looked like on the 31st of August:
This is the difference between my desired allocation in each Sector/Category and actual situation currently: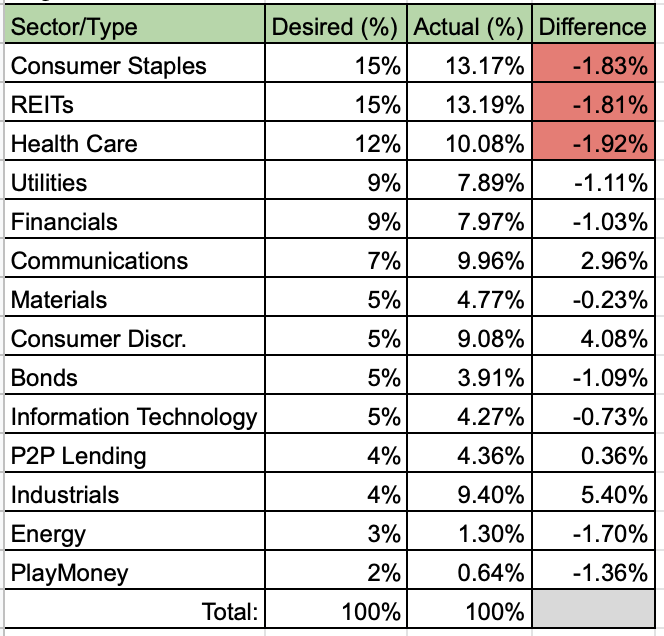 This shows that I don't want to increase my exposure to Industrials and Consumer Discretionary sectors. I would rather add to my holdings in the sectors of Consumer Staples, REITs and HealthCare.
From Consumer Staples sector, the most likely candidates would be adding to my position of Altria Group (MO) or initiating a position in Archers-Daniels-Midland (ADM).
In REITs sector, I would most likely increase my position in Baltic Horizon Fund.
From HealthCare sector, I am interested in adding to my position of Johnson & Johnson (JNJ) or initiating a new position in Abbvie (ABBV) or something else.
Also, I wouldn't rule out adding a few shares to my Slack (WORK) position which took a dive after their latest earnings release.
Summary
My portfolio stood its ground and stayed above €25k during August. If I keep adding funds to the portfolio, it will have less chance to dip below this mark ever again.
I am quite happy with the positions I have in my portfolio at the moment, so most likely I will keep adding to my smallest existing holdings. It's nice that there are now some platforms with free trades available in Lithuania, so it makes sense to invest in small chunks as well.
How is your portfolio doing? What are you watching at the moment? Thanks for visiting and I would love to read your comments! 🙂