As I was planning in one of my previous posts, I came back to my home market and purchased some stocks of Vilkyskiu Pienine from Baltic market. I bought 160 shares at price of €3.75 for a total of €602 (including commissions).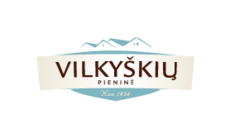 Shortly about the company:
Vilkyskiu pienine AB is engaged in production and sales of cheese. It also produces and sells whey, raw milk and cream. It is involved in production of cheese mozzarella, blue cheese and other cheese products through its subsidiary.
Some metrics:
P/E (TTM): 5.28
Debt/Equity: 0.75
Price/Book: 1.33
I think this is one of the riskier investments in my portfolio as it is operating in a cyclical industry. However, I think that possible rewards outweigh the risk and I hope it will pay off in the long run. The company demonstrated great results recently and its stock price climbed quite a bit during the year but I think there is still room to grow.
Dividends
Usually the company pays dividends once a year. It is quite a young company and doesn't have a long history of dividends, though. During the last 10 years there were two years when they didn't pay any dividends at all. The latest dividend was paid in May 2017 and it yielded €0.12/share. With the purchase price of €3.75 it brings yield to 3.2% if the dividend stays the same and it would resolve to €16.32 (after 15% tax). It's not much for such a small company, especially in our market. However, I think that the dividend is going to be higher next year due to stellar results the company is demonstrating so far in 2017. This is some data about it's performance in the first 9 months of the year compared to last two years:
I also like that it is diversifying the regions it is operating in and most of its production is exported to other countries. I think this reduces the risk of geopolitical factors which was a problem in the past.
Furthermore, the management of the company is one of the friendliest to small investors, especially in the segment it is operating. It is providing information about sales each month, there have never been any scandals about the company and I think it's quite important in our small market.
Vilkyskiu Pienine will take 13% of my portfolio value with today's currency conversion rates. This is how my current portfolio looks like:
Do any of my readers know this company? What do you think about this purchase? Do you have this company in your portfolio? Please let me know in comments below.