I am late to report my results for April but it's better late than never. Let's see what the month brought!
Dividend Income
I received dividend from one company in my portfolio: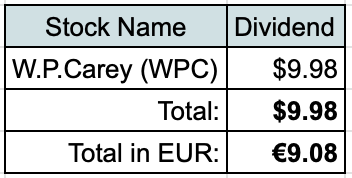 I like to compare my dividend income with our expenses, so I am continuing the tradition. €9.08 from W.P.Carey would cover 0.3% of our Mortgage payments for the last 3 months.
It's a fun exercise to have and see how the amounts change when the time goes by. Hopefully, one day received dividends would be able to cover more meaningful portions of our expenses.
P2P Lending Income
Another part of passive income came as interest from P2P Lending:

Bond Interest
At the beginning of April, I received my principal back from the Viada bond I purchased back in 2018. Also, the last interest payment came in at €25, which was the biggest part of passive income this month.
Real Estate Crowdfunding
Finally, I received some interest from a few Real Estate Crowdfunding projects I have invested in. It provided additional €3.36 to my passive income for the month of April.
Passive Income Summary
After adding it all up, April came in as the best month so far this year by a big margin:
I received €44.10 from passive income in total. Unfortunately, I am not expecting such months this year anymore, as this was the last month when I held the bond. On the bright side, income from other sources should grow bit by bit going forward.
Investments and Portfolio Contributions
April was another month where I didn't have much funds to invest. I ended up contributing only €200 to my investments.

I received partial payment back from one of the real estate crowdfunding project, so I couldn't resist to invest €100 to a new one. With interest rate at 8%, I am planning to earn €8.62 from it over a period of 13 months.
I also invested a small amount to a company which provides Internet and TV services for me – Telia Lietuva (TEL1L). On the 26th of April, I bought 50 shares of Telia Lietuva for a total of €99.50:
Since there are no commissions, I can buy stocks from Baltic Exchange in small amounts.
Company recently declared dividend of €0.06/share for the year 2022. This is lower than their recent dividend history due to investments to 5G network. However, I expect the dividend to be higher in the future. Currently, this purchase adds €2.55 to my projected annual dividend income.
I thought of an exercise to invest to the company at least the amount I pay for their services. My monthly payment for TV + Internet is €25.80, which is €309.60 annually. This means that I should invest at least €210 additionally to the company this year.
I am thinking to implement the same thing for our electricity expenses. We are paying our electricity bills to Ignitis, which is also a public company.
Portfolio Overview
This is how my portfolio is looking at the moment:

Current portfolio value stands at €2600, which is around the same as last month. Recent poor performance of W.P.Carey and Target is dragging portfolio vaue down, but I am not worried as long as they don't cut their dividend.
Finally, this is how my current portfolio composition is looking compared to desired allocation in terms of sectors/asset classes (at the beginning of May):
My next bigger purchase should be to Health Care sector. I will not have enough funds for it during May, but I should be able to purchase something during June.
Summary
April was a great month in terms of passive income – I received €44.10 in total from 4 different sources. So far in 2023, I received €67.12 from passive income, which is 36.7% of my goal to receive €183 during the year. With 33% of the year gone, I have caught up to my target but it will be hard to keep it up, as I no longer hold the bond in my portfolio.
Thanks for reading! 🙂