It's time for another edition of monthly passive income review. May is usually my best month in terms of dividends due to some annual payers in my portfolio. This time though, I was worried that I will have the first down month compared to last year since I started this blog. That's because one of my annual payers cut their dividend. It was neck and neck in the end, as you will see later in this post.
Dividend Income
This month 6 companies paid dividend to me! It's a new record in number of companies that paid in a single month.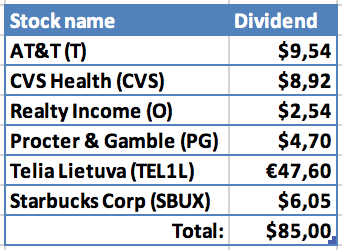 This totals to $85 which is a new record!
As always, let's see what part of expenses, related to the companies, the dividends could cover if I decided to spend them:
$9.54 from AT&T would cover 35% of what we spent for cellphone bill for the last 3 months. I am using my company's phone and my wife negotiated a better rate at her provider, so it only costs us €7/month now;
$8.92 from CVS Health would cover 4.3% of our Barber expenses for the last three months. Since it is my second Healthcare company (after PFE), I decided to assign it to another category of our budget 🙂
$2.54 from Realty Income would cover 0.4% of our monthly rent;
€47.60 from Telia Lietuva would cover 56.7% of our TV+Internet expenses for the last 3 months. It feels good to receive dividends from the company which is actually providing our TV & Internet services 🙂
$6.05 from Starbucks would cover 1.8% of our Eating Out expenses. We spent quite a lot in this category lately, as there was more eating out during our holidays. Hopefully, these expenses will be lower during next months.
It's getting harder to assign dividends to certain category as I now have several companies from the same sectors. I don't mind having this problem, though 🙂
Year-on-Year Comparison
Now the big moment – let's see if I managed to surpass dividends received during May of last year:
Vilkyskiu Pienine (VLP1L) represented high portion of dividends last year. Their results were not great last year, so the company decided to cut their dividend this year. I was worried that I will experience the first year-on-year decrease since I started this blog. Luckily, dividend increases, new positions and additions to existing ones eliminated the difference and I received slightly more than last year.
This is how my dividend income progress looks like since the beginning of 2016 when I started tracking it:
Purchases and Portfolio Contributions
This month I added €800 to my investments account.
I didn't add any new companies to my portfolio but slightly adjusted it. As I mentioned in my previous posts, I still have some positions at my old broker where I pay 30% tax on dividends, compared to 15% at my new broker. This month, I sold my 7 shares of Exxon Mobil (XOM) at old broker and bought 10 shares at my new broker. This resulted in a $12.06 increase in my projected annual dividend income (after taxes). I managed to do this before XOM's ex-dividend date, so I should already receive the increased dividend in June.
I also added €50 to Mintos P2P lending account.
Dividend Increases
Unfortunately, the streak of months with dividend increases ended this month. Most of my companies tend to raise their dividend at the beginning of the year, so the latter part of the year will be more silent in this front.
Changes in Projected Annual Dividend Income
As I mentioned in previous posts, I have a goal to increase my PADI to $450 from US companies this year. At the start of the year it was standing at $236. This means that I should add additional $214 (or $18/month in average) if I want to achieve the target.
To track the progress, I monitor PADI increase/decrease from two sources – dividend increases and capital contribution.
Let's see how forward dividend income changed during May:

May was another slow month for PADI increases. However, I am still on track to reach the target and June should include a new buy which will push me closer to the goal.
P2P Lending Income
Let's see how much passive income I received from another source – P2P lending:
This month I received my first interest from Mintos platform. Savy has very limited number of loans, so I am only planning to add some new funds to Mintos going forward.
In total, P2P lending delivered €7.84 this month. Current loans portfolio stands at €844. I am planning to keep it under 10% of my overall portfolio, as I think it's a riskier type of investment than dividend stocks.
Summary
In total (after converting to EUR) I received €83.28 from passive income. This brings the total for 2019 so far to €240.28 which is 50% of my target to receive €480 from passive income this year. It's looking good so far because I had a couple of really great months with my annual payers. The dividend payouts will slow down when the year goes on. But I will have some new payers as well so I think I should be able to reach my goal.
How was your month? Do you share any dividend payers with me? Was your portfolio affected by the recent downturn in the market? Please don't hesitate to leave your comments and thanks for reading!