Another month has passed and what a month it has been! Our baby-girl started crawling, I opened my triathlon season with the first race and our little vacation started (it's still ongoing as I write).
While we were busy living life, our portfolio kept working silently in the background and delivered some passive income. Let's see what it delivered during April.
Dividend Income
This month 4 companies paid me dividend. For consistency sake, I converted all dividends to USD, even though TKM paid in EUR: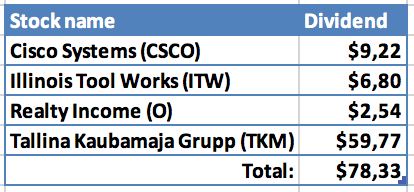 Finally, my purchase of Tallina Kaubamaja Grupp last September is bearing fruits. They are only paying dividend once a year but it gave a huge boost to my April dividend income.
As always, let's see what part of expenses, related to the companies, the dividends could cover if I decided to spend them:
$9.22 from Cisco would cover 9.4% of our TV+Internet expenses for the last 3 months;
$6.80 from Illinois Tool Works would cover 15% of what we spent in "Home" category during the last 3 months;
$2.54 from Realty Income would cover 0.4% of our monthly rent;
€53.57 from Tallina Kaubamaja Grupp would cover 36% of what we spent on "Sweets" (ice cream, cookies, chocolate, sweets etc.) during the first 4 months of this year. On a side note, we should try to decrease expenses in this category.
I keep performing this exercise just for entertainment but it also gives me motivation and shows the value of those dividends. It also reminds me that I can decrease the gap between dividend income and expenses by limiting our consumption, not only by raising the income 🙂
Year-on-year Comparison
Let's see how dividend income compares to April of last year:
That hefty dividend from TKM really made a difference this April. Of course, additional position of ITW and dividend raises from CSCO & O didn't hurt. They contributed to the growth as well.
This is how my dividend income progress looks like since the beginning of 2016 when I started tracking it:
Purchases and Portfolio Contributions
This month I put aside €800 to my investment account which is slightly more than usual. I used these funds and leftovers from previous month to initiate a new position in my portfolio. On the 23rd of April, I purchased 100 shares of Uniqa Insurance at €9.51/share for a total of €959 (including commissions). You may read more about this purchase here. This purchase adds €45.05 to my forward annual dividend income (after taxes).
I also added €50 to a new P2P lending platform which I will cover a little bit later.
Dividend Increases
I am very pleased to see that the dividend increases streak continues for one more month. I saw two companies announce an increase during April:

The increases are in the expected range for those companies, so no surprises here. Unfortunately, I own both of the companies at my old broker where I pay 30% tax on dividends, compared to 15% on my new broker. If I moved them over, the increase would be slightly bigger after taxes.
Changes in Projected Annual Dividend Income
As I mentioned in previous posts, I have a goal to increase my PADI to $450 from US companies this year. This means that I should add additional $18/month in average if I want to achieve the target. To track the progress, I monitor PADI increase/decrease from two sources – dividend increases and capital contribution.
Let's see how forward dividend income changed during April:
Since I decided to track only added dividend income from US companies, it doesn't show my purchase of Uniqa Insurance Group which is an Austrian company. I am hesitant of how to best track the progress from European companies in my portfolio but I think it's not the worst problem to have.
P2P Lending Income
This month I decided to diversify my income from P2P lending. So I opened an account with another P2P platform – Mintos. From now on, I will report my results from P2P lending in a table format. I think this will be more readable and easier to track progress.
I also received my first income from an affiliate link this month. Thanks a lot to somebody who used my referral link to open an account in Savy! I received €10 which I will add to my passive income summary.
Summary
In total (after converting to EUR) I received €87.74 from passive income this month. It's more than the first three months of the year combined! This brings the total for 2019 so far to €157 which is ~33% of my target to receive €480 from passive income this year. I should have two more months with bigger income from my annual payers and after that it should slow down. At the moment, I am behind my goal. It just means that I will try even harder to invest and come as close to the target as possible.
How was your April? Are you sharing any dividend payers with me? Are you happy with the results? I would love to read your comments, so don't hesitate to leave one! 🙂