The last time I posted a watchlist on this blog was back in March 2020. It feels good to be looking for stocks that could become part of my portfolio again. I haven't saved enough for a stock purchase yet, but it didn't stop me to look at some stocks that could be good candidates to be added to my portfolio.
Portfolio Allocation
The first thing I did was to think about a desired portfolio allocation to different sectors/investment categories. This is what I came up with: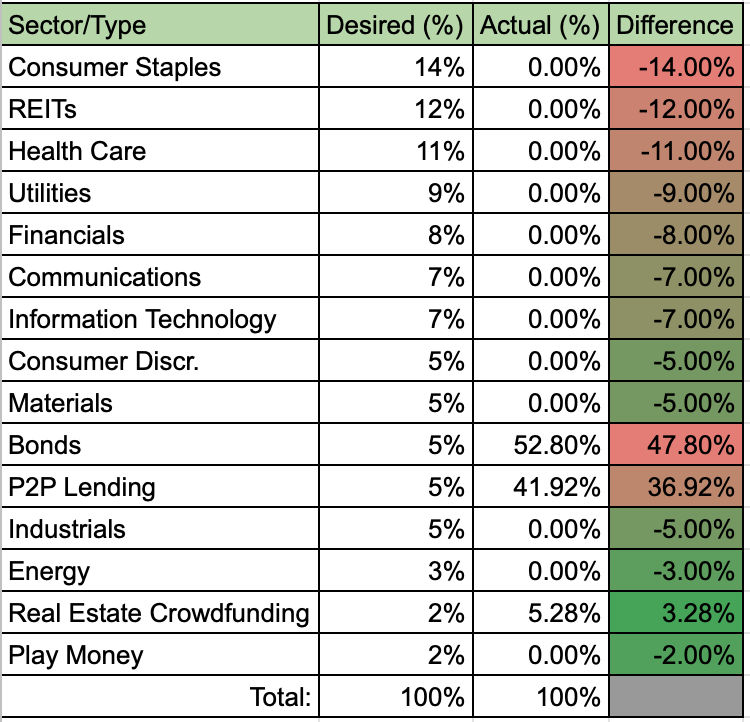 €1000 in a bond;
€794 in P2P lending;
€100 in Real Estate Crowdfunding.
I want my portfolio to be quite stable and provide a constant stream of cash flow. That's why more stable sectors (Consumer Staples, Health Care, Utilities) and sectors with higher yield (REITs) are on top of my list.
Consumer Staples
Based on my desired portfolio allocation, I would like to start building back my portfolio by adding a position in Consumer Staples sector. I started my selection process by visiting finviz.com and running a simple screener with the following criteria:
Sector – Consumer Defensive (another term for Consumer Staples);
Market Cap – over $2 billion;
Dividend yield – over 2%;
Payout ratio – under 100%.
It came up with 30 stock names. I selected 13 stocks out of that list and picked out some statistics that look the most interesting to me when selecting stocks. This is what I came up with:

After reviewing the data, I am mostly interested in 4 companies:
The Kroger Co (KR);
Mondelez International (MDLZ);
Procter & Gamble (PG);
Target Corp (TGT).
I like a few things about above companies. Their dividend yields are above their 4 year average yield, which could mean that it's a good opportunity to initiate a position at the moment. They also have a good history of growing dividends and their recent dividend growth rate is reasonable. Furthermore, PG and TGT have nice debt ratios, which means they shouldn't have many issues with repaying their debt with increasing interest rates. It's a little bit worse when talking about KR and MDLZ, but it's not too bad as well.
Actually, Procter & Gamble was one of my first purchases when I started building my portfolio back in 2017. Target was also in my portfolio before I sold it, and it was one of the top performers. I would be glad to have any of these companies back in my portfolio.
Summary
I am still slowly saving to get back to investing, so I have some time to dig more into the companies I am interested in. Hopefully, I will have enough funds to initiate a purchase in December. So for the next few weeks I will spend some time to look into each of the 4 companies (or more) that I am most interested in. Perhaps I will even share some of my thoughts in this blog.
What was your most recent purchase? Do you own any of the companies I mentioned above? What would be your choice at the moment?
Thanks for visiting! 🙂