Since I missed my portfolio overview last month, I decided to review my portfolio for the last two months (May and June), while July is not over. I haven't spent much time reading news or following the market for the last couple of months. I guess it's one of the advantages of "Buy and Hold" strategy, as you don't need to think about your portfolio every day. So this overview may reveal some things that I may have missed during summer months.
Portfolio Overview
Let's start with an overview of my portfolio, as it stood on the 30th June:
Overall portfolio increased by ~€1500 during the last two months. This was mainly due to some new investments, as well as some market appreciation.
With regards to winners and losers of my portfolio, not much changed since my last portfolio overview. Target is still my biggest winner, while Uniqa Insurance Group, followed by Vilkyskiu Pienine and Exxon Mobil, are the biggest laggards so far.
Price Movement
Let's see how individual holdings changed during the reporting period (30th April – 30th of June):
Two companies increased in value by double digits during reporting period. Eastman Chemical led the charge by increasing 15%. It was followed by Cisco Systems which increased by 10%.
On the negative side, I had one company to decrease by more than 10%. Price of Pfizer decreased by ~15%. I think it is going to be one of the leaders during July, though, as their vaccine for Covid-19 is showing promising signs.
All in all, I had more companies in Green than in Red, and the average price change was +2.37%.
Top/Bottom Portfolio Positions
These were my Top and Bottom portfolio holdings in terms of portfolio value at the end of June:
Target took over as the Top position of the portfolio. Other than that, there were no more changes in the Top5.
Talking about the Bottom positions, the newcomer Slack is the smallest position at the moment, with only 0.34%. Most probably, I will build this position over time in my "PlayMoney" category of the portfolio. Other than that, only other change is that Johnson & Johnson is no longer among the Bottom 5 positions. AT&T is finishing the list of smallest positions this month.
Purchases/Sales
During the last couple of months, I made a few trades:
On the 28th of May, I bought 20 shares of Welltower for €51.77/share for a total of $1042.40 (including commissions);
On the 29th of June, I bought 2 shares of Altria Group at $39.02/share for a total of $78.02;
On the 29th of June, I bought 1 share of Johnson & Johnson for $139.90;
On the 29th of June, I bought 3 shares of Slack Technologies at $33.04/share for a total of $93.12.
These purchases added $40.69 to my forward annual dividend income. You may read more about the purchases here and here.
Sector Allocation
This is how Sector/Type of Investment allocation was standing at the end of June: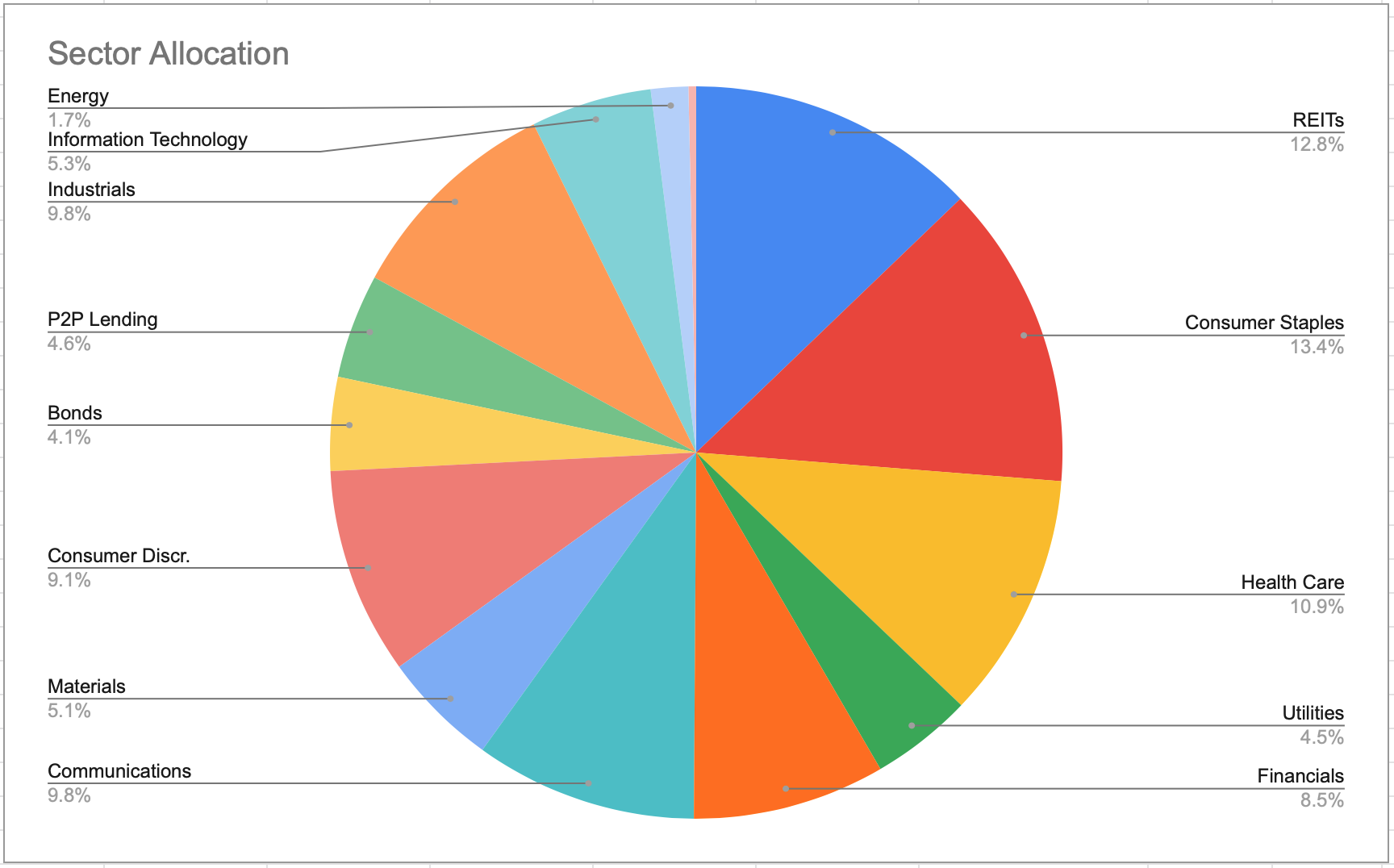 A few months ago, I created a desired sector allocation for my portfolio. Let's see how the desired allocation compares to actual holdings:
Looking at the above table, Utilities sector is the most likely candidate for my next purchase. I will need to compare some companies I have in mind – Nextera Energy, Southern Company, Duke Energy.
Summary
Not much changed during the last couple of months. I just keep slowly building it and investing when I can.
After the review, I know that I will be looking at the Utilities sector next. What Utility companies do you own? What are you planning to buy next? I would love to see your comments and thanks for reading!