It's time for another monthly review of my portfolio. As you may know, November was pretty generous to market. Great news about vaccines and US election pushed stock prices to record highs again.
Let's see what happened with my portfolio during the last month.
Portfolio Overview
Let's start with the general view of my portfolio, as it stood on the 1st of December:
Portfolio value increased by ~€2300 during November. I didn't make any new investments, so it's purely price movement. It's funny as I think the stock market wouldn't be this high if the pandemic didn't happen in the first place.
The number of stocks increased to 27 stocks. However, this is not due to a new investment. Pfizer and Mylan merged their generics businesses into a new entity, called Viatris. As a result, I received 3 shares of the newly formed Viatris (VTRS) company. It's a minuscule position, so I am not sure if I am going to keep it. On the other hand, if I decided to sell it, commissions would eat 1/7 of its value.
Price Movement
Next, let's see how prices of individual companies changed during November: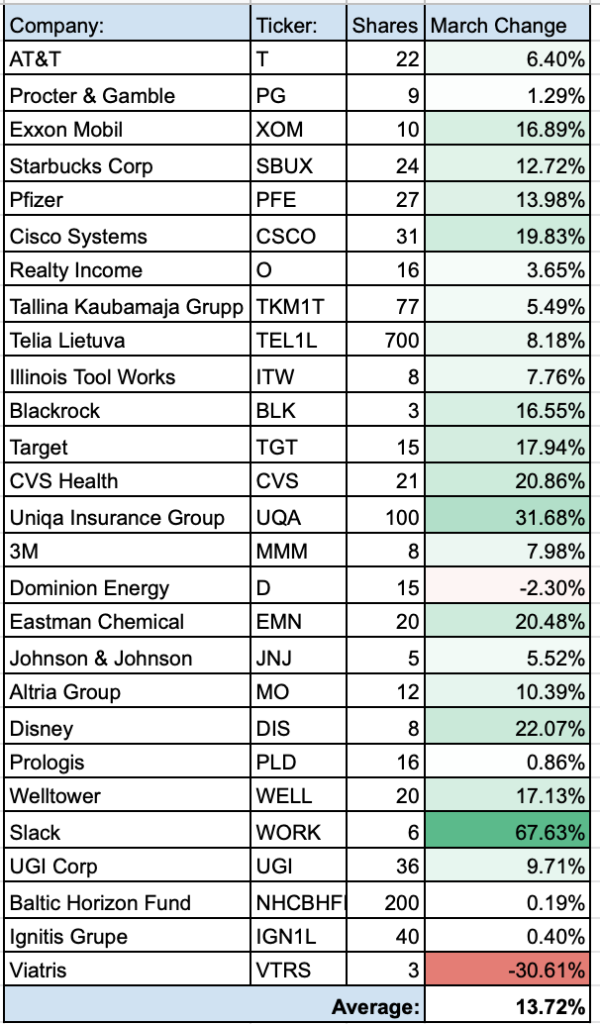 All but 2 of the companies in my portfolio reported some kind of growth during November.
Slack (WORK) was the biggest star during this month. As you probably heard, Salesforce is going to acquire the company at a premium price. As a result, the share price of Slack increased by more than 60% during the last month. However, this was one of the smallest positions, so the effect to my portfolio is very small. It is my only stock in PlayMoney category.
Uniqa Insurance Group (UQA) also delivered a big increase of 31%. It was one of the biggest laggards of my portfolio, so it's nice to see for it to recover some ground.
Another 12 companies reported growth of more than 10%, so I won't bother mentioning all of them separately.
The only company with a substantial loss was the newcomer Viatris (VTRS). Its price decreased by 30%. However, it's a very tiny position and I saw that the price actually jumped back by ~60% on the first day of December.
Top/Bottom Portfolio Positions
These were my Top and Bottom portfolio holdings at the end of November: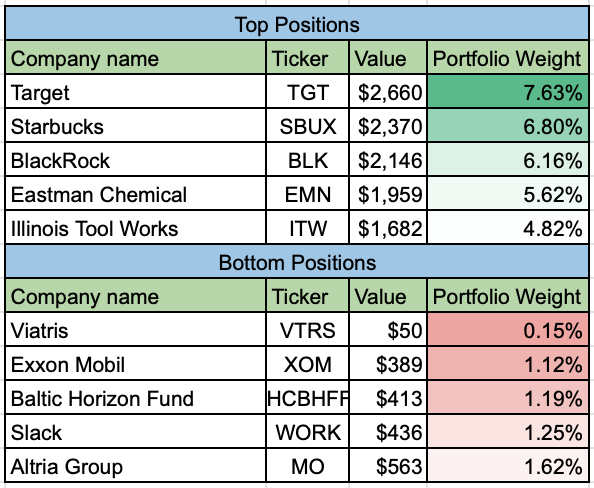 The only change among the top positions is Illinois Tool Works (ITW) coming back to Top5 list. It replaced Prologis (PLD), which is no longer among the Top positions. Next month, I am expecting more changes to this table, as I trimmed my position of Target (TGT) at the beginning of December.
There was much more shuffling among the bottom positions. The new name of Viatris (VTRS) is by far the smallest holding in my portfolio. Slack (WORK) jumped from the smallest to Bottom 4 position during the month due to the aforementioned jump in the share price. Finally, Uniqa Insurance Group (UQA) has left the Bottom5 after great performance in November as well.
Purchases/Sales
I did just a very small purchase this month. I bought one share of Altria Group (MO) for $40.04.
I am not planning to do any purchases in the nearest future, though, as we are planning to buy a home next year. Most probably, I will need to liquidate most of my portfolio for a down payment. It is not a fun thing to do but it makes sense in the long run.
Sector Allocation
The last part of the overview looks at my portfolio from the perspective of sectors/categories among my holdings.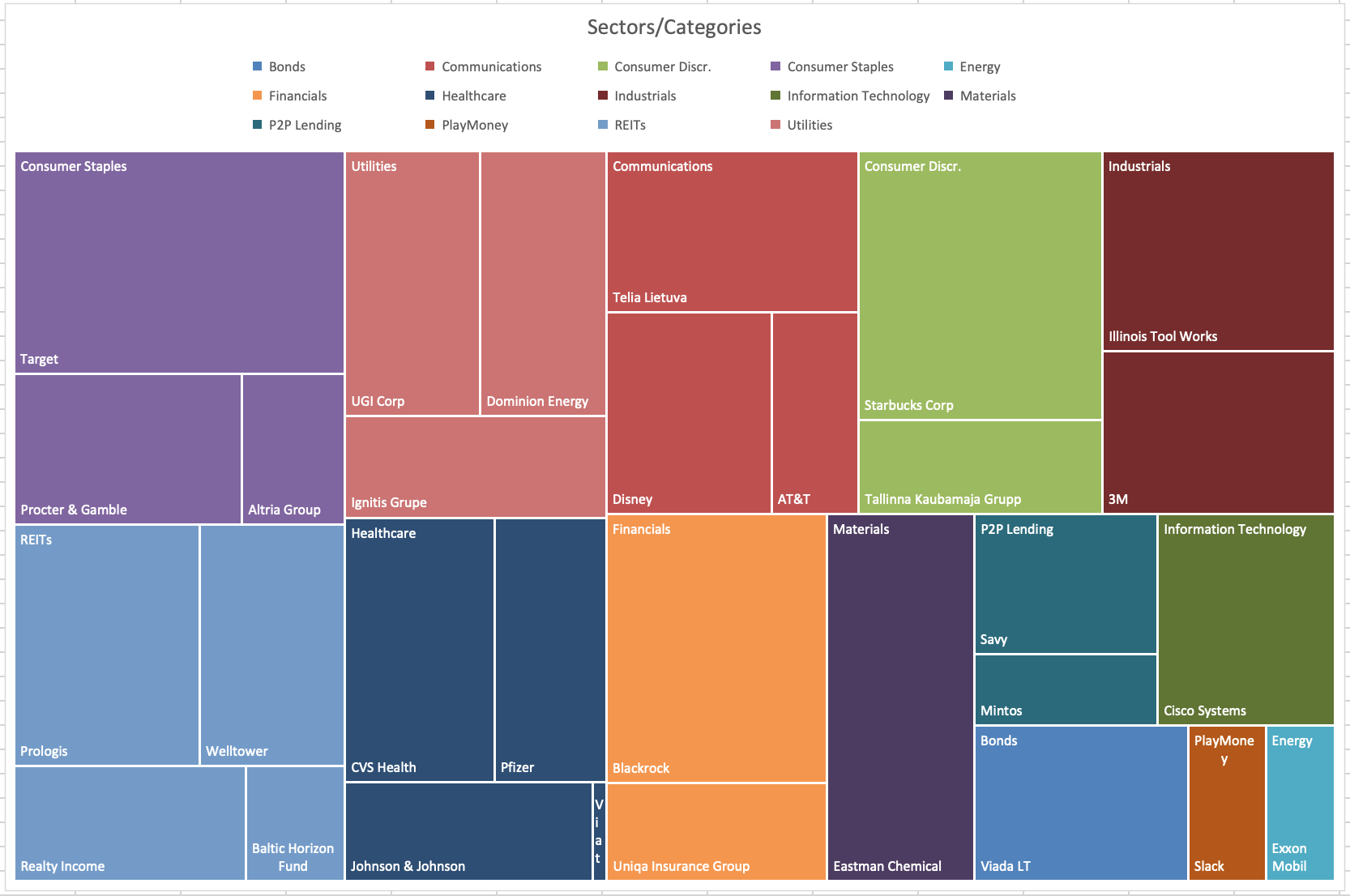 This is the difference between my desired allocation in each Sector/Category and actual situation currently: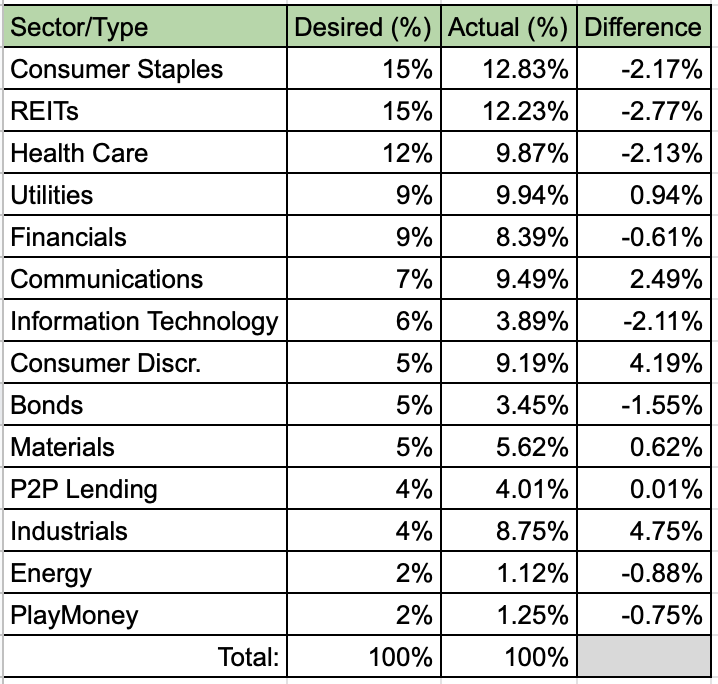 This part of the post used to be the most interesting, as it would show which direction my portfolio is going to take next. However, since I am not planning any purchases, it doesn't have that much importance now.
Summary
November was a great month for stock market, so the same applies to my portfolio. I think it saw the biggest increase in value for a single month. We will just need to see if this is going to stay.
Sadly, I am not going to make any new investments in the nearest future, as we are planning to buy a home next year. On the contrary, I think I will need to sell most of my portfolio and use the cash for a down payment. I already made some selling in December to use the profit tax exception for up to €500 in a calendar year. Therefore, I am not sure how much value this post series is going to bring to me going forward. The main point of this portfolio overview was to see which part of my portfolio I should extend next.
How is your portfolio looking? Are you happy with results from November or not paying any attention to market movements? I would love to hear your thoughts and thanks for reading! 🙂