It's almost the end of November and I haven't reviewed my portfolio for the month of October yet. Well, I still have a few days, so I think it's better late than never 🙂
I review my portfolio to see what changed, what are my top/bottom positions and what direction it should take next.
Portfolio Overview
Let's start with the general view of my portfolio, as it stood on the 1st of November: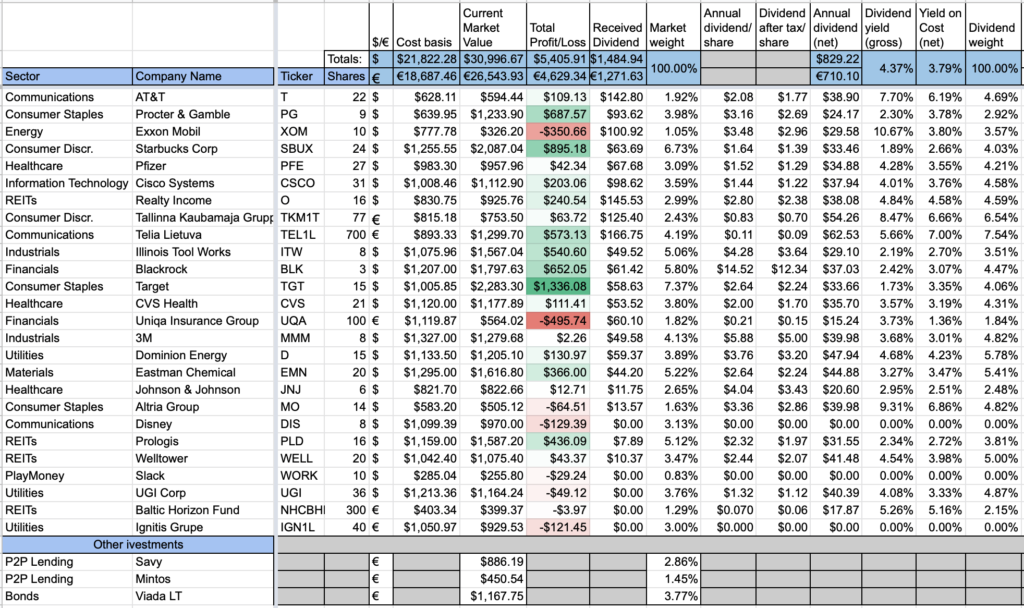 Portfolio value increased by ~€700. This is mainly to a new investment of ~€900 to Ignitis Grupe (IGN1L). If I haven't made the investment, the portfolio value would have decreased slightly.
The number of stocks in my portfolio increased to 26 companies.
Out of existing positions, Target (TGT) is still my biggest winner by a big margin. I am not sure what should change for it to submit leader's position in the nearest future, as the lead is quite significant.
Nothing changed in the laggards front as well. Uniqa Insurance Group (UQA) is the biggest loser, followed by Exxon Mobil (XOM). Perhaps I shouldn't call them losers, as they are still delivering dividends to my account. Let's just say it would be nice for them to improve in price performance as well.
Price Movement
Next, let's see how prices of individual companies changed during the month of October: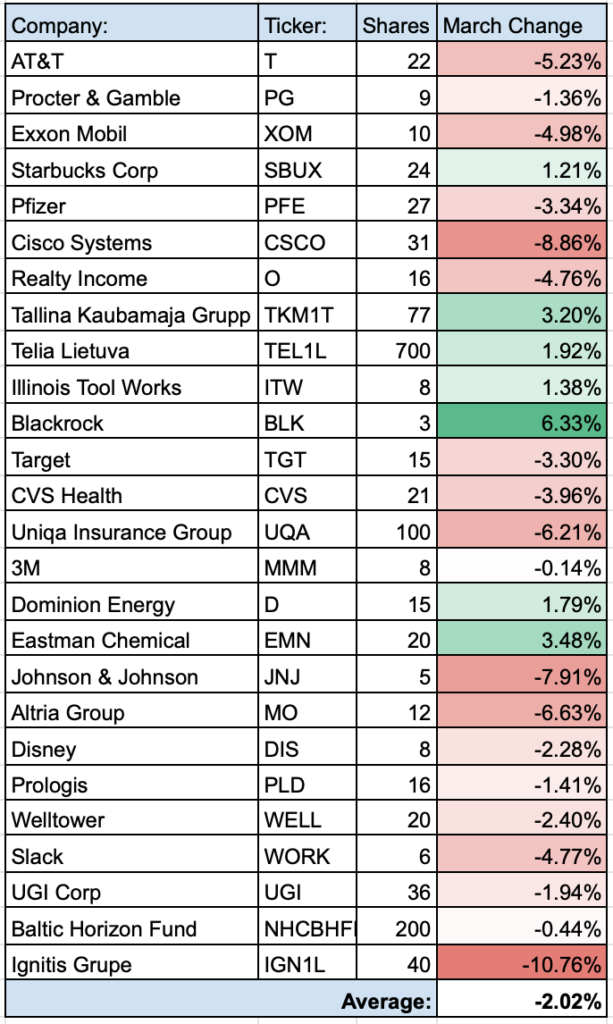 Similar to last month, I have much more red colour than green one. Price of 18 companies decreased during the month, while the rest 8 managed to pull an increase.
On the bright side, only one company's price decreased by double digits (-10.76%). Ironically, it's the newest position in my portfolio – Ignitis Grupe (IGN1L). Their IPO was not a big success and the price kept going downwards for the whole month. I still like the company and am not worried about the price fluctuations.
I didn't have any companies to increase in double-digits during October. The highest climber was Blackrock (BLK) with an increase of 6%.
Top/Bottom Portfolio Positions
These were my Top and Bottom portfolio holdings at the end of October: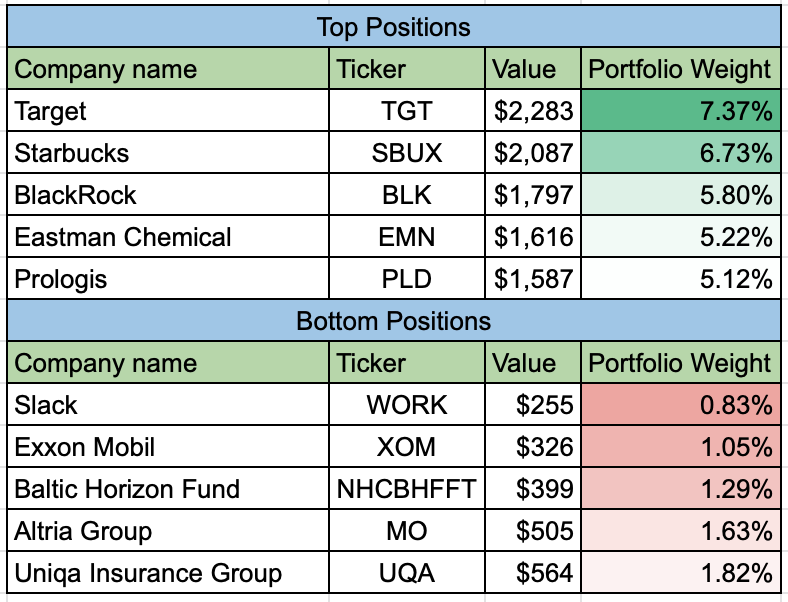 Interestingly, there were almost no changes in my Top/Bottom positions. The only change was Eastman Chemical (EMN) switching places with Prologis (PLD) among the Top positions. All Bottom positions stayed in the same places.
Purchases/Sales
At the beginning of October, I participated in an IPO of a Lithuanian company – Ignitis Grupe (IGN1L).
I bought 40 shares at €22.5/share for a total of €900.
This purchase adds €38.42 to my net forward dividend income, if company sticks to its target of dividend payments.
You may read more about the purchase here.
Sector Allocation
The last part of the overview looks at my portfolio from the perspective of sectors/categories among my holdings. It's one of the most interesting parts for me personally in this post, as it shows which direction my portfolio should take next.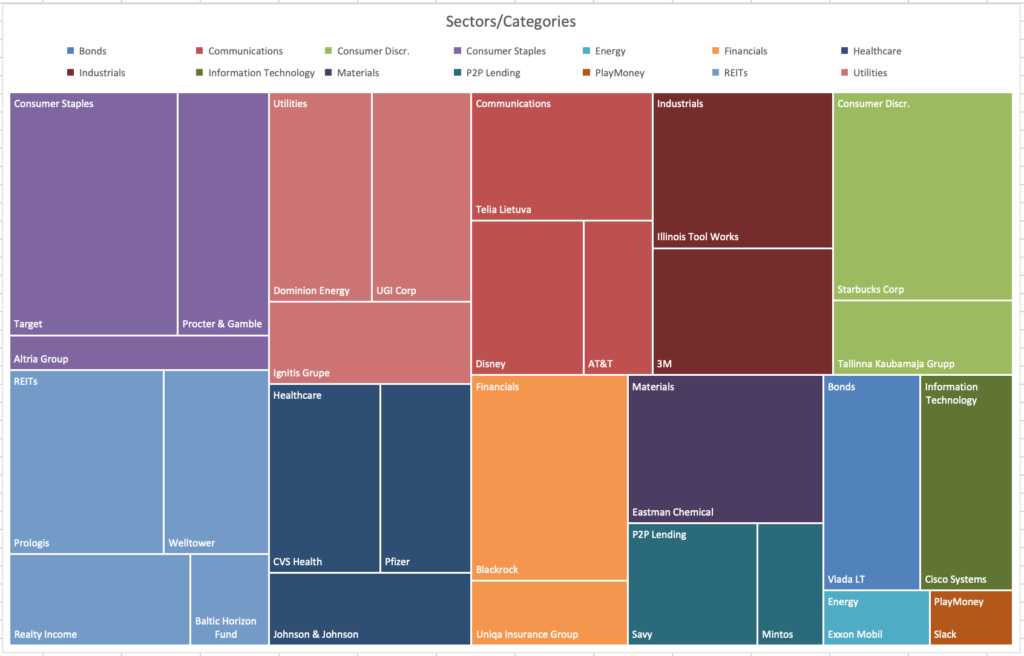 Thanks to the idea from Engineering Dividends, I am now showing this graph in a form of treemap. I already received some feedback that this looks better, so I am going to stick to this type of visualisation.
This is the difference between my desired allocation in each Sector/Category and actual situation currently: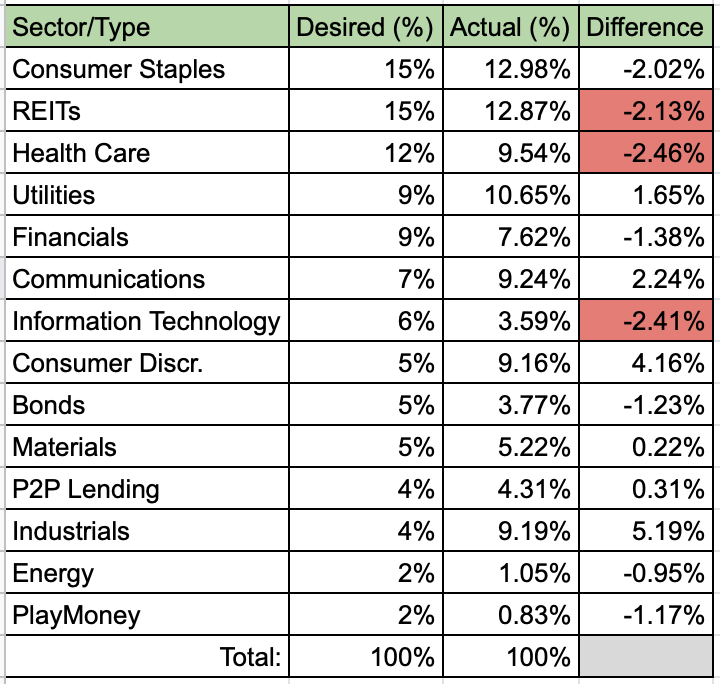 My desired allocation table shows that the sectors I would focus next are Health Care, Information Technology & REITs. Unfortunately, I don't have any available funds now, so it will have to wait at least until next month. By then, the percentage in each sector may change, so let's wait and see what happens. I will need to sit on the sidelines for now.
Summary
My portfolio hasn't changed much during the month of October. It is slowly growing due to investments and crossed the mark of €26k for the first time.
I should be able to squeeze one more buy until the end of this year but the budget is pretty tight at the moment, due to some personal reasons. As you are probably aware, November is looking spectacular until now due to some great vaccine news and US elections, so I expect to still hit some new heights for the portfolio.
How is your portfolio looking? Are you making any changes to it? What are you planning to buy next? I would love to hear from you! 🙂