Every month, I review my portfolio to see what changed, what are my top/bottom positions and what direction it should take next. It's time to see what happened with the portfolio during the month of September.
Portfolio Overview
Let's start with the general view of my portfolio, as it stood on the 1st of October: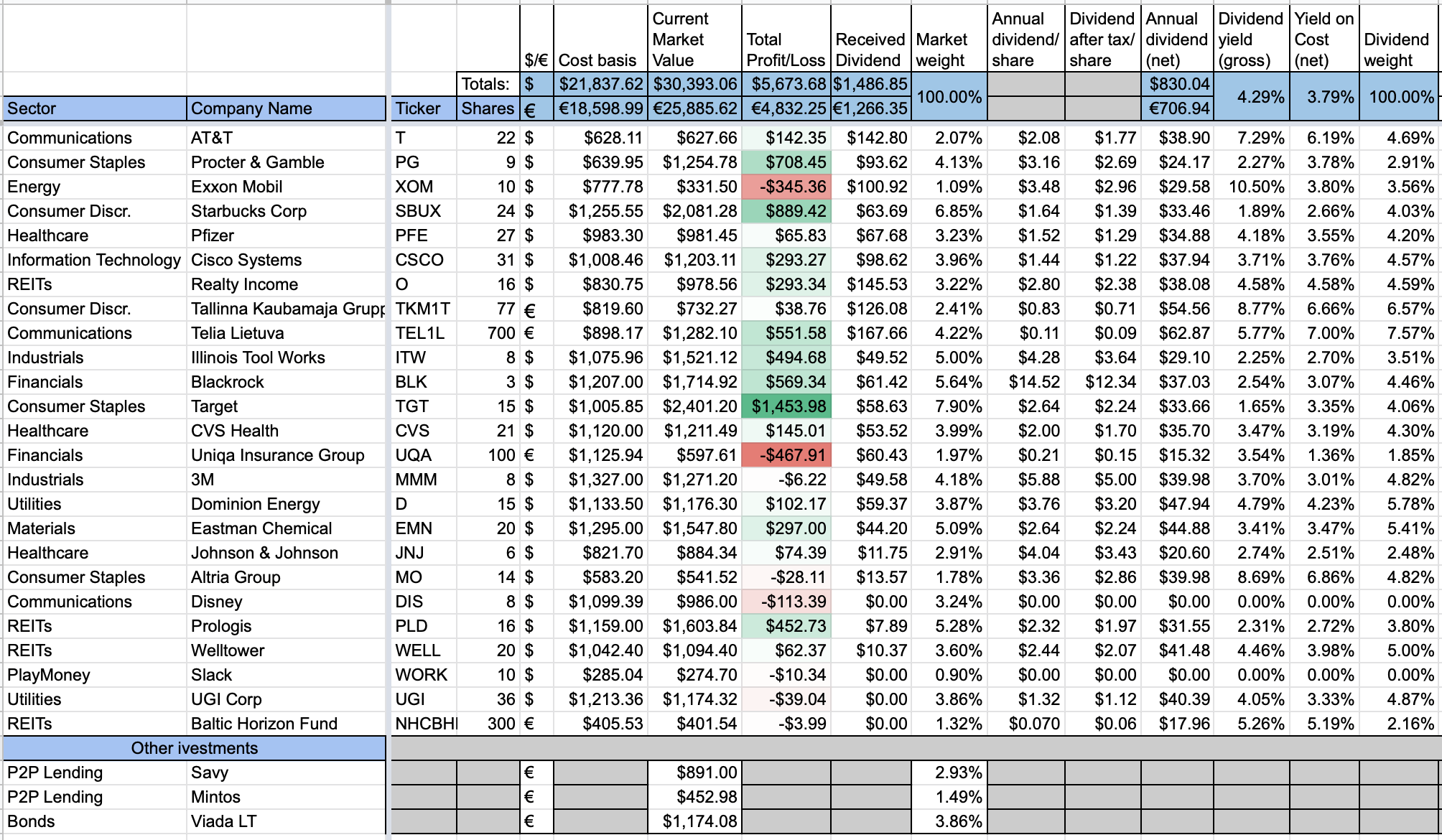 Compared to last month, portfolio increased by ~€300. I contributed ~€400 to my portfolio, so the value would have decreased slightly if not those contributions.
The number of stocks remains unchanged – 25.
Target is still my biggest winner and it even increased the margin compared to last month.
Regarding losers of the portfolio, Uniqa Insurance Group is still my biggest laggard, followed by the Energy giant Exxon Mobil.
Price Movement
Next, let's see how prices of individual companies changed during the month of September: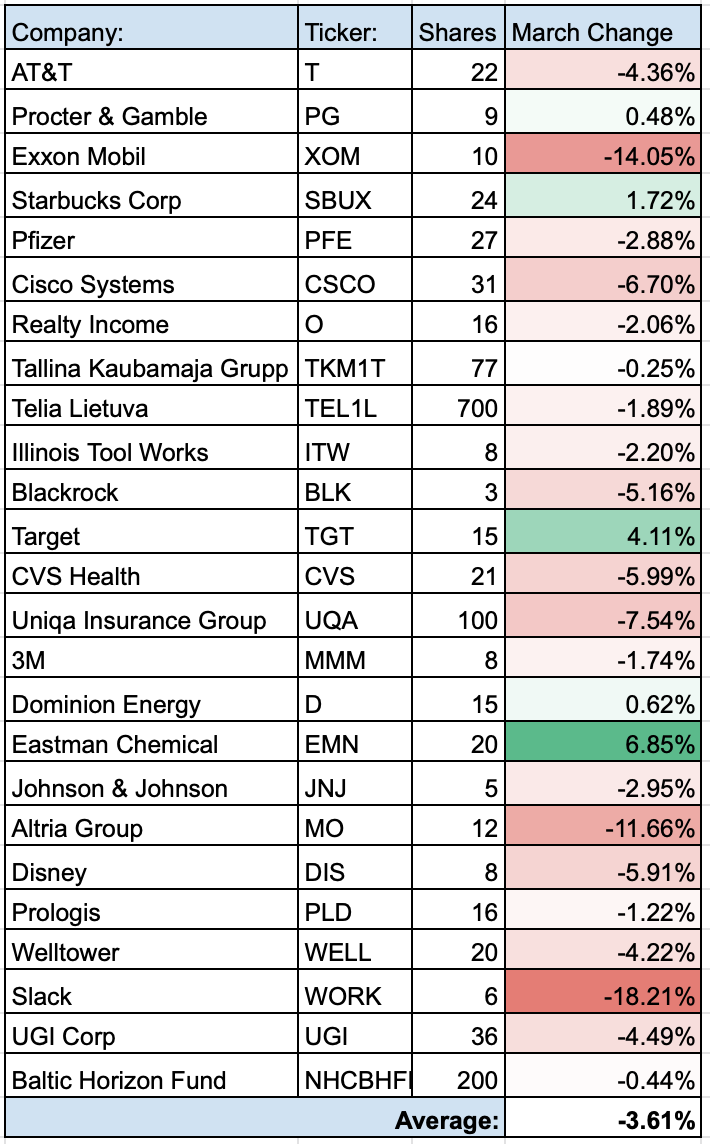 September was not bright for my portfolio. Price of most of the companies decreased during the month. I had three companies to decrease by double digits this month. Slack declined the most (-18.21%). Exxon Mobil & Altria Group also decreased by double digits. Luckily, all three companies are among the smallest holdings of my portfolio. On the other hand, I shouldn't pay much attention to short-term movements at all, if there are no fundamental changes. But it's interesting to see what's happening.
I had just a handful of companies (4) to increase in price during September. None of them increased by double-digits, though.
Top/Bottom Portfolio Positions
These were my Top and Bottom portfolio holdings at the end of September: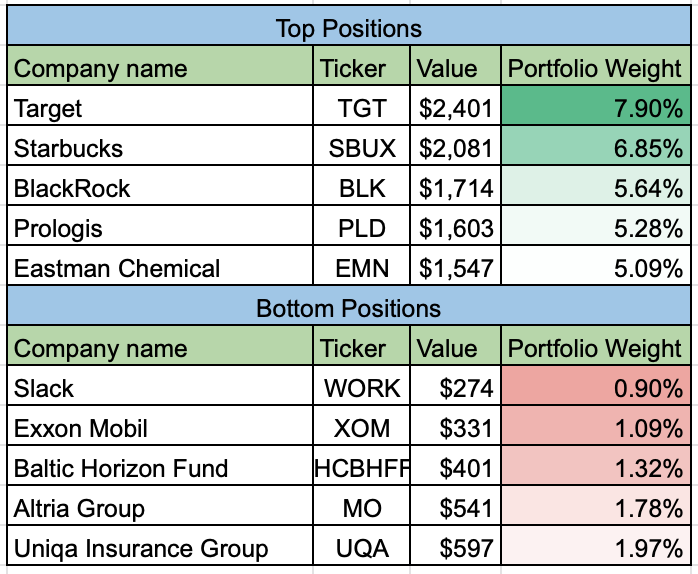 Not much changed among the Top positions. The only change is at the Top5 place of my portfolio. Eastman Chemical replaced Illinois Tool Works but the difference is pretty narrow.
Regarding the bottom positions, Exxon Mobil switched places with Baltic Horizon Fund this month. Also, Uniqa Insurance Group came back to the Bottom5 list, replacing AT&T which was here last month.
Purchases/Sales
During September, I made 4 small purchases:
100 units of Baltic Horizon Fund at €1.146/share for a total of €114.60;
4 shares of Slack (WORK) at $25.99/share for a total of $103.96;
1 share of Johnson & Johnson (JNJ) for $147.58;
2 shares of Altria Group (MO) at $39.54/share for a total of $79.08.
It adds ~€12 (€5.1 + $9.27) to my net forward annual dividend income. You may read more about the buys here.
Sector Allocation
I am always interested to see how diversified my portfolio is and how I should tune it moving forward. This is how sector/category allocation looked like on the 30th of September: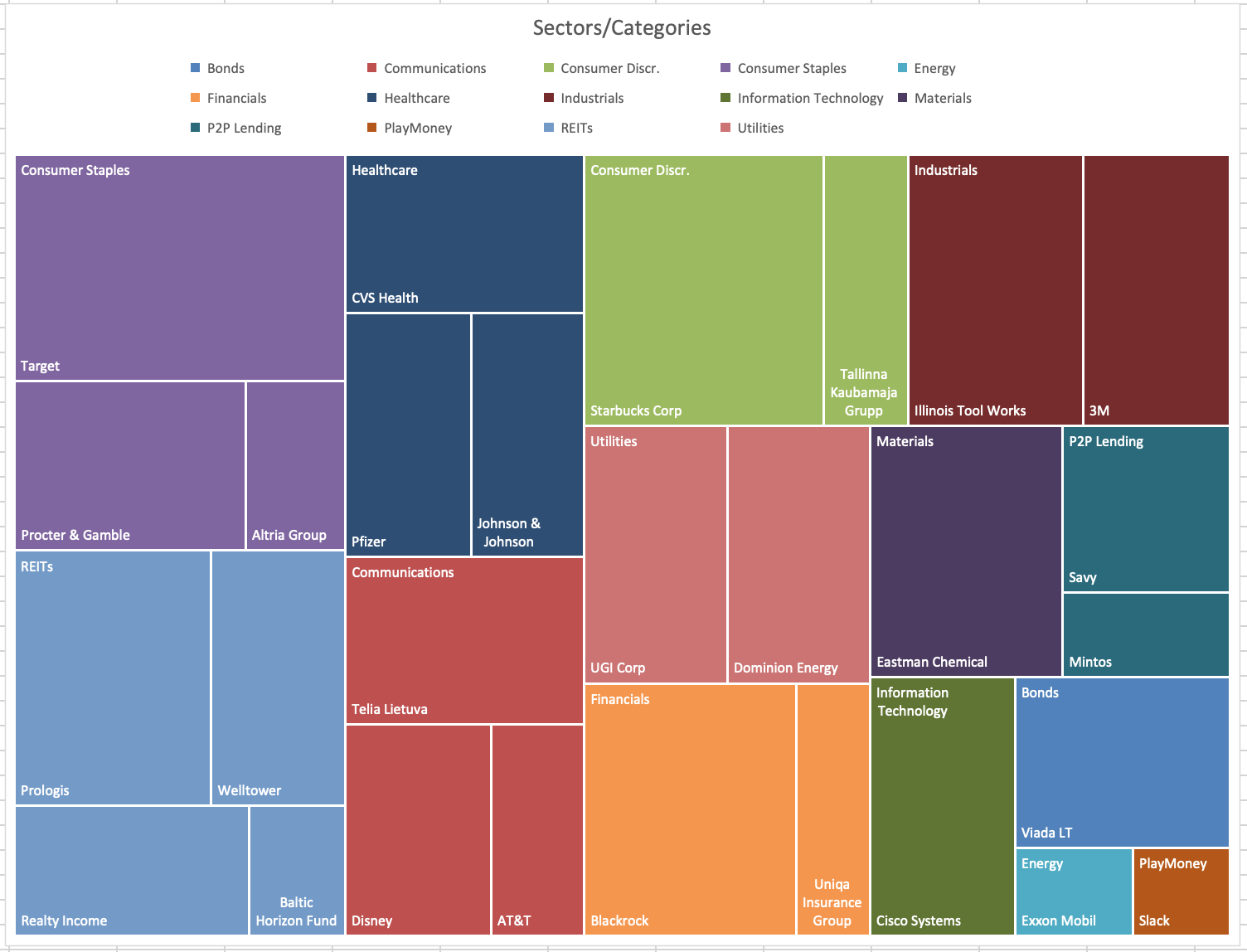 I took the idea from Engineering Dividends and decided to show my sector allocation in a treemap, instead of a Circle Pie this time. It looks more friendly to the eye, in my opinion.
This is the difference between my desired allocation in each Sector/Category and actual situation currently: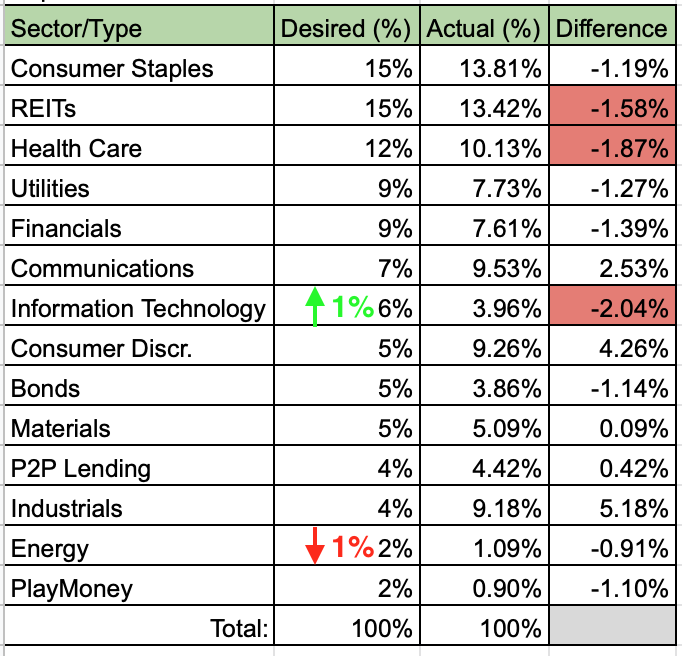 I made a small choice to my desired sector allocation. I increased my target for Information Technology sector by 1% to 6%. Something had to give, so I took one percentage point from Energy sector. Its target allocation is now 2%.
In the upcoming months I will try to find a company from Information Technology sector to fit to my portfolio. A few names come to mind – Intel (INTC), Texas Instruments (TXN), Automatic Data Processing (ADP). I may even consider one of the giants – Microsoft (MSFT), even though their dividend yield is very low and they may be overvalued at the moment.
In the meanwhile, I already made my purchase in October by participating in a local IPO here in Lithuania. But that's topic for another post.
Summary
Not much changed with my portfolio during September. Even though price of most of my companies decreased during the month, portfolio value (in EUR) increased by a few hundred euros.
Going forward, I am planning to do at least one more purchase this year. I will need to limit contributions to my portfolio due to some personal reasons for some time after that. Hopefully, I will be able to contribute at least some small sums.
How is your portfolio looking? Have you been buying anything lately? I would love to read your comments! 🙂