Every month, I review my portfolio to see what changed, what are my top/bottom positions and what direction it should take next. It's time to see what happened with the portfolio during the month of July.
Portfolio Overview
Let's start with an overview of my portfolio, as it stood on the 30th of July:
I reached a new milestone – portfolio surpassed €25k for the first time!
Portfolio value increased by ~€900. Appreciation came from a new investment in UGI Corp (UGI). If I hadn't made this purchase, the value would have decreased during the month, mainly due to stronger Euro compared to US Dollar. The number of stocks in my portfolio increased to 25 holdings.
Target (TGT) is still the biggest winner of my portfolio by some margin. I guess the margin will become even bigger after their latest earnings release but that's topic for another month.
The biggest loser of my portfolio is Uniqa Insurance Group (UQA). Most probably, it will not pay dividends next year, so I am debating if I should keep the company in my portfolio.
Let's see how individual holdings changed during the reporting period (1st July – 30th July):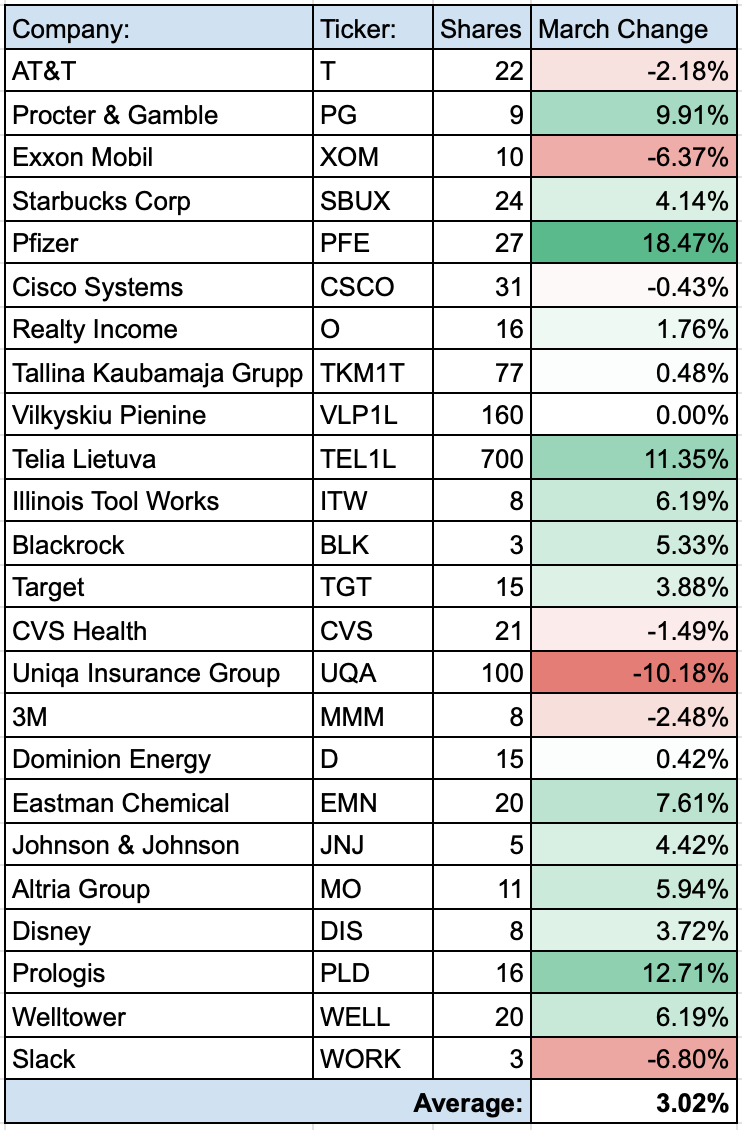 I had a few companies that increased by more than 10% this month. Pfizer (PFE) was the leader with impressive 18.5%. It was the biggest laggard last month, so it's nice to see it back up. It was followed by Prologis (PLD) and Telia Lietuva (TEL1L) whose shares increased by 12.7% and 11.3% respectively.
Similar to last month, I had one company's price to decrease by more than 10%. This time it was the Austrian company Uniqa Insurance Group (UQA) which decreased by 10.2%.
Even though more companies increased in price, my portfolio generated a negative return if I check it in Euros. That's because US dollar decreased in value by ~5% compared to Euro during the month. Since most of my holdings are in US dollars, it had a negative effect.
Top/Bottom Portfolio Positions
These were my Top and Bottom portfolio holdings at the end of July:
The only change among my Top positions was Eastman Chemical (EMN) coming to the TOP5. It replaced Cisco Systems (CSCO). It's quite a packed field in the middle, so I expect this to change quite frequently.
Regarding the BOTTOM5, Exxon Mobil (XOM) switched places with Altria Group (MO). Also, Uniqa Insurance Group (UQA) became one of the smallest positions after their poor performance recently.
I was hesitating for at least 6 months now what I should do with my position of Vilkyskiu Pienine (VLP1L), since they stopped paying their dividend couple of years ago. I finally decided to pull the plug a few days ago and sold the position. It was only 1.2% of my portfolio, so it won't change the situation much. I will re-allocate the funds to some stock which is paying dividend or has more potential for growth.
I am wondering if I should do the same with Uniqa Insurance Group, as they are planning to suspend their dividend next year.
Purchases/Sales
On the 30th of July, I purchased 36 shares of UGI at $33.51/share for a total of $1213.36 (including commissions).
This purchase adds $40.39 to my net forward annual dividend income.
You may read more about the purchase here.
Sector Allocation
Now comes the most interesting part of this overview. Reviewing sector allocation of my portfolio will show what sectors I will try to focus on next. This is how the portfolio diversification looked like at the end of July:
A few months ago I sat down and wrote down a desired sector allocation for my portfolio. Let's see how it looks like compared to actual holdings in each category/sector: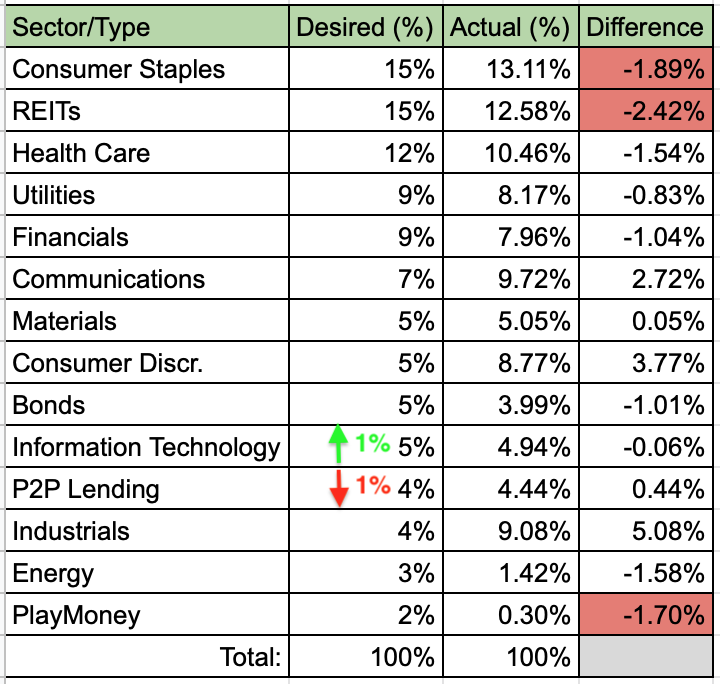 I made one small change to my desired allocation during the month. I added 1% to Information Technology sector which is taking more and more of the S&P500. It is likely that I will increase it in the future. There are quite a few companies from this sector that I like and don't think that they are going anywhere.
Something had to give, so I took 1% off from P2P Lending section of my portfolio. Even though the interest paid on loans is very high and profitable for now, I think this is the riskiest part of my portfolio. It is also the least liquid, as I would not be able to sell my holdings at once if I wanted to. Therefore, I decided to reduce the desired allocation to 4% for P2P lending.
The most likely candidates for my next purchases are in the categories of REITs, Consumer Staples & PlayMoney.
Summary
My portfolio passed the $25k mark for the first time. It may dip below this mark again but I will keep adding to my portfolio to make sure it is progressing.
How is your portfolio doing lately? Do you have any targets in your sight at the moment? I would love to read your comments!