Hello and welcome to overview of the first month in 2019. End of January means that we only have one month of winter left. And the first two months of winter were not disappointing. I don't remember when was the last time we had so much snow. I hope that we will have similar winter next year, as I would like to be able to build some snowmen with our baby-daughter when she grows a little bit.
Enough with the weather overview, though. Let's get to the numbers for January.
Dividend Income
This month I received dividend from 3 companies:
The first month of the quarter was historically the slowest month for dividend income. It was the only month when I wouldn't reach $10 in dividends. Well, that's about to change with a recent addition of ITW to my portfolio. It's nice to start the year with another small milestone 🙂
It's already a tradition to imagine what part of our expenses in relevant categories we would be able to cover if we decided to spend the dividend:
$8.70 from Cisco would cover 8.6% of our Internet + TV bill for the last three months;
$6.80 from Illinois Tool Works would cover 17% of our Home expenses category for the last three months;
$2.48 from Realty Income would cover 0.4% of our monthly Rent.
I like to perform this exercise because it gives me motivation to keep saving and investing. Hopefully, one day dividends will be able to cover at least some of our expenses each month.
Year-On-Year Comparison
Let's see how dividend income compares to what I received in January of last year:
It's great to see that dividend income more than doubled compared to last year. It happened due to several reasons:
Addition of ITW to my portfolio;
I moved CSCO from my previous broker to a new brokerage account and had to pay 15% tax as opposed to 30% earlier;
CSCO & O increased their dividends in 2018.
I hope to continue the momentum, as I have an optimistic goal to double passive income this year compared to last year.
This is how my dividend income progress looks like since the beginning of 2016 when I started recording it: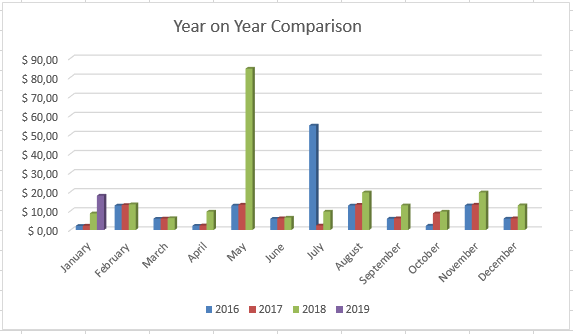 Purchases and Portfolio Contributions
During January I contributed €600 to my investment account. I used this amount and previous savings to initiate one position. On the 2nd of January, I bought 15 shares of TGT for $66.59/share (+ $7 commissions) for a total of $1005.85. You may read more about this purchase here.
I also added €50 to P2P lending account.
Dividend Increases
This month one company increased their dividend. It's one of my favourite companies – Realty Income:
The increase is not big but they tend to raise their dividend very often, so I'll take that.
Changes in Projected Annual Dividend Income (PADI)
At the beginning of the year, I created a goal for myself to increase PADI to $450. It was standing at $236 at the end of last year which means that I should increase PADI by ~$18/month if I want to achieve the target. To better track my progress I decided to include a new table to my monthly reviews (I borrowed the idea from EngineeringDividends with his consent). It will show how much additional forward dividend income is added to my portfolio each month from dividend raises and investment of new capital.
January was a great month and it added $33.24 to my Projected Annual Dividend Income. Most probably, I won't be able to add much during February, so it's good to be ahead of schedule for now.
P2P Lending Income
This month I received €8.19 in interest from P2P lending. My loans portfolio currently consists of 66 loans for a total value of €730.07. 
Summary
In total (after converting to EUR) I received €23.88 from passive income during January. I am aiming to receive €480 during 2019, so I am currently behind my target. However, I hope that the target is reachable if I keep saving and investing 🙂
How was your January? Did you receive dividends from any of the companies above? Was the weather cold where you are writing from? As always, thanks for reading and I would love to read your comments!