Another month has passed and we are into the last month of the summer. This summer has been pretty active for us. I guess there were only a few weekends when we stayed at home with our family.
Now let's jump to passive income report for July.
Dividend Income
Just like every month so far this year, I had a single company to pay a dividend. This month that company was W.P.Carey (WPC):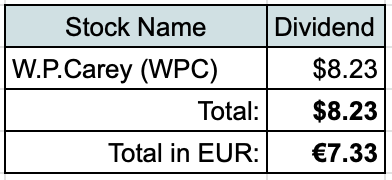 Frustratingly, I was charged with 30% of Dividend Withholding tax instead of usual 15%. That's because I forgot to update W8 form in time to benefit from the income tax treaty between the United States and Lithuania. On the bright side, I can see that my next dividend which came in the beginning of August was already charged at a 15% rate.
Continuing with the tradition to compare dividend to actual expenses, €7.33 from W.P.Carey would cover 0.2% of our Mortgage payments over the last 3 months.
P2P Lending Income
Another source of income came from P2P Lending:
Interest from P2P Lending added a similar amount as each month – €6.15.
Real Estate Crowdfunding
Finally, I received some interest from Real Estate Crowdfunding projects I invested in. It provided additional €4.89 to my passive income for the month of July.
Passive Income Summary
After adding it up, July brought €18.37 of passive income:

This is how it looks graphically so far this year:
Investments and Portfolio Contributions
During July, I added €450 to our investment accounts.
I used part of this investment to add small amounts to my existing positions of Ignitis Group and Telia Lietuva.
On the 24th of July, I bought 3 shares of Ignitis (IGN1L) at €20.20/share for a total of €60.60: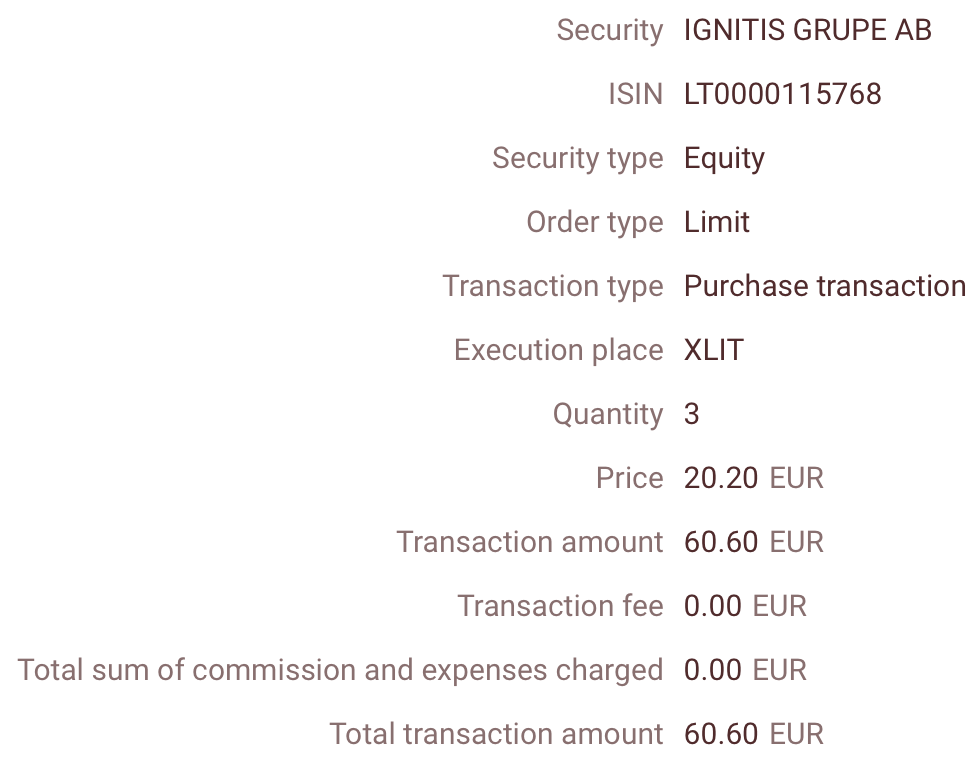 With their current dividend, this purchase adds €3.18 to my forward annual dividend income. After this buy, I now own 13 shares of Ignitis.
On the same day, I bought 21 shares of Telia Lietuva (TEL1L) at €1.875/share for a total of €39.38:
This purchase adds €1.07 to my forward annual dividend income. After this purchase, I own 73 shares of Telia.
Portfolio Overview
This is how my portfolio looked like at the beginning of August:

Portfolio is up to ˜€3500 (up by €100 since last month) mainly due to aforementioned investments.
Finally, this is how my current portfolio composition is looking compared to desired allocation in terms of sectors/asset classes: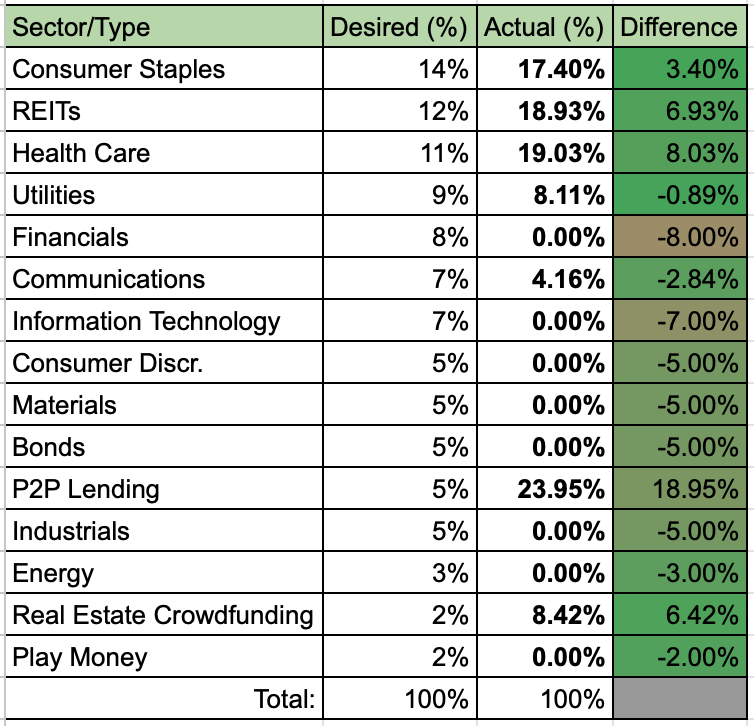 My next investment will probably go to some company from Financials sector. I should be able to buy something in September.
Summary
July was an active month and it flew by quickly. It's nice to see that passive income is growing, even though the growth is slow. However, every little bit counts and it feels good to be in a better position than you were yesterday.
So far in 2023, we received €105.06 from passive income, which is 57% of our goal to receive €183 during this year. With 58% of the year gone, I am slightly behind schedule but I have hope to catch up 🙂
Thanks for reading! 🙂