Recently, I shared a watchlist of REITs (Real Estate Investment Trusts) I was considering adding to my portfolio. Last week, I finally made up my mind and chose the company to add to my portfolio.
W. P. Carey (WPC)
The REIT I decided to go with is W. P. Carey. Shortly about the company from Yahoo Finance:
W. P. Carey ranks among the largest net lease REITs with an enterprise value of approximately $18 billion and a diversified portfolio of operationally-critical commercial real estate that includes 1,215 net lease properties covering approximately 142 million square feet as of September 30, 2020. For nearly five decades, the company has invested in high-quality single-tenant industrial, warehouse, office, retail and self-storage properties subject to long-term net leases with built-in rent escalators. Its portfolio is located primarily in the U.S. and Northern and Western Europe and is well-diversified by tenant, property type, geographic location and tenant industry.
Let's see how the main ratios of the company looked like at the price of purchase:
Current price – $76.17;
FFO Payout Ratio (forward) – 81.34%;
Net Debt/EBITDA – 6.14;
EBITDA/Net Interest Expenses – 6.01;
Net Interest Expenses/Net Operating Income – 29.00%;
Debt/Total Real Estate Assets – 62.07%;
Dividend Yield – 5.60%;
Average 4-yr yield – 5.50%;
Dividend growth streak – 9 years.
There are a few things I like about the company.
Firstly, it is greatly diversified both in terms of property types and tenant industry: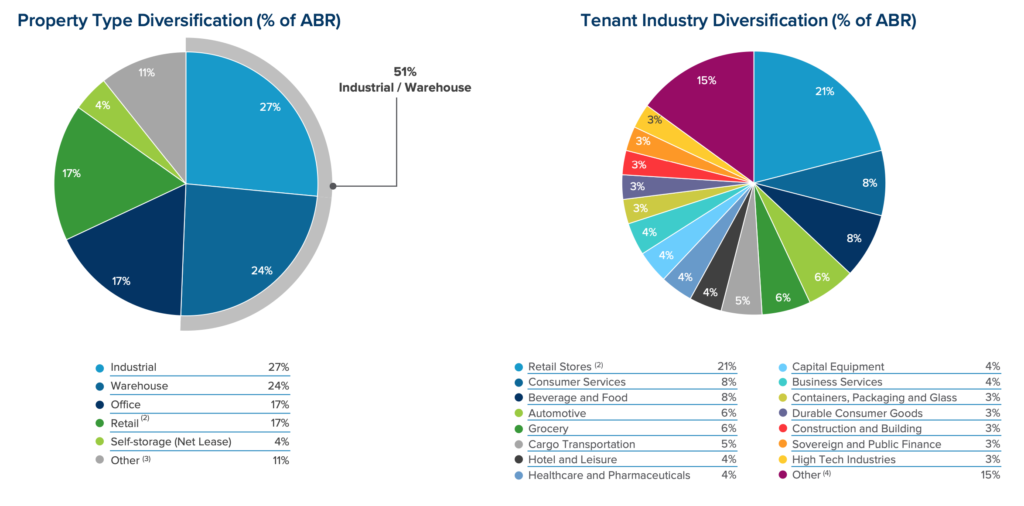 Furthermore, 55% of W. P. Carey's leases are CPI-linked, which means that they can raise rents in touch with Consumer Price Index changes.
Lastly, it has been growing dividends consistently. This is how dividend history of the company looks like:
Of course, it has challenges, as most REITs these days. This is mainly related to the growing interest rates and therefore rising costs to borrow.
Company will need to refinance its debt mainly in 2024 and 2025, as can be seen from their debt maturity schedule: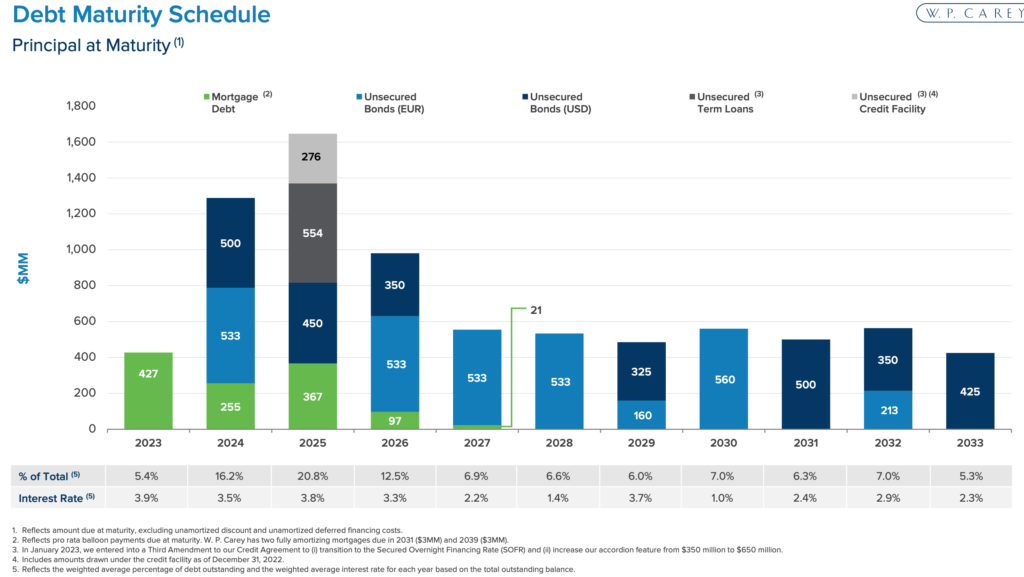 Since I am investing for the long-term, I will be fine if there is some turbulence in the nearest future, so I am willing to take the risk.
Purchase Summary
On the 22nd of March, I bought 11 shares of WPC at $76.17/share (+$7 in commissions) for a total of $844.87 (€771.85):

This purchase adds $39.90 to my PADI (Projected Annual Dividend Income) after taxes.
I am happy that I managed to make the purchase before their next ex-dividend date (which is 30th March), so I will already receive the first dividend from the company in April.
What do you think about this purchase? Have you added any REITs to your portfolio lately? I would love to see your comments!